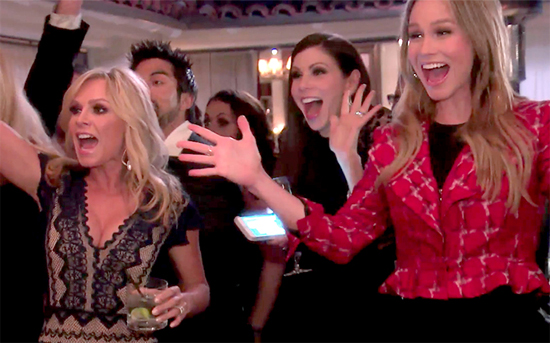 It's hard to believe that it's been ten whole years since the first episode of Real Housewives of Orange County debuted. Since then, we've seen seemingly countless spinoffs, including Real Housewives of New Jersey, Atlanta, Beverly Hills, New York, and even DC. Now, with a new trailer out for season 11 of Real Housewives of Orange County, we're looking forward to even more craziness.
We'll Welcome Back the Original Cast!
First, old school fans of the show will definitely appreciate that season 11 will bring back all their favorites. The whole original cast is back, including Tamra Judge, Heather Dubrow, Vicki Gunvalson, Meghan King Edmonds, and Shannon Beador. That's not all, though. You can look forward to getting to know Kelly Dodd, Meghan's raunchy BFF!
Starting Where We Left Off Last Season
Fans will be happy to know that they won't be missing a bit of the drama between Vicki and the other women. You'll get to know all about her part in her ex's cancer scandal, and there's definitely going to be some drama with her and the other girls over it.
Of course, it wouldn't be Real Housewives of Orange County if there weren't some surprises. For example, from the sneak peek we got at the trailer, it looks like things might not be over between Vicki and her ex. At one point, she calls him and says, "Brooks. This is Vicki. I believed you and I loved you!" Maybe she's just still angry, or maybe their story isn't over yet.
Hashing Out Old Problems
It looks like Shannon's husband David isn't off the hook yet for the affair he had last season, either. At a barbecue, Shannon says, "You think that I pushed you to have an affair!?" We might learn even more about what happened there, and who knows what's in the future for Shannon and David? Could we be looking at another RHOC divorce?
Trouble in Paradise?
Speaking of marital strife, we always thought that Heather and her husband Terry (known for his plastic surgery work on Botched) were the perfect couple. That might not be the case, though. Tensions are high between the two when Heather snaps at Terry, and there might be more drama to come!
The Infamous Dune Buggy Accident
Finally, if you're a fan of Real Housewives of Orange County, you've probably already heard about the dune buggy accident that Tamra and Vicki were involved in. They claim that they weren't drinking, and we've heard that they're okay, but we'll have to tune into the show to see what really happened that day.
Are you ready for yet another season of some of the most entertaining reality TV on television today? Over the past ten years, we've grown to know and love these women and their insane marriages and relationships, and it looks like season 11 won't let us down, either. Who's your favorite Real Housewife? Do you think Shannon and David will make it? Are Vicki and Brooks really done? We can only wait and find out!