The million dollar quartet is a recording released in Europe; it featured 17 tracks. Talking about the million dollar quartet, it brings into real life, the ideal definition of an impromptu recording session that came out perfect. The unexpected Jam session had Johnny Cash, Carl Perkins, Elvis Presley and Jerry Lee Lewis doing what they know best.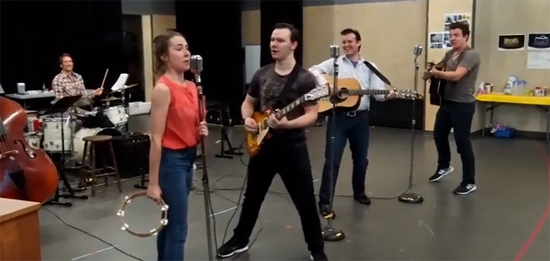 Although rock and roll music was in its early age, these talented artists had to put up a remarkable number of tracks. Few years after recording the Million Dollar Quartet, the full version was compiled and produced – The Complete Million Dollar session.
In an interview with the musical director, Zachary Stevenson, he detailed how the whole thing came about. Stevenson pointed out that the jam session wasn't planned, but turned out to be a great deal. Perkins walked into the studio with his brothers to record some new versions to some already known blues, the owner of Sun Recording studio; Sam Philips called on his new protégé, Jerry Lee Lewis to jump on the keys. At the same time, Elvis Presley, a former artist with Sun Records walked in to pay a casual visit; he listened to Perkins session after chatting with his Ex-boss and headed for the studio. After a short while, the jam began, and Johnny Cash entered. Wham! The full hit kicked off.
The impromptu session featured these four artists doing gospel songs which they know how to do best. In fact, this session remains one of the best-unexpected jams that turned out to be a hit. The million dollar quartet is a session to behold.
Zachary Stevenson pointed out in an interview that the jam session was an unexpected one. The director expressed his view of the whole thing. "The show took place at Memphis Tennesse at Sun studios, and it was inspired by real events, December 4th, 1956 where Johnny Cash, Carl Perkins, Jerry Lee Lewis and Elvis Presley were all in the studio at the same time. It only happened once in history, although they all recorded individually. It was Impromptu, unexpected, talking about music, singing gospel songs they were all familiar with, harmonizing jam together and … it was a pretty special moment in eh…rock and roll history."
Speaking of the talented artists and how they came up with something nice, Stevenson said "We really hope to capture an authentic portrayal of the music. This was an era where rock and roll were being established; it was easy to forget that because we weren't very familiar with a lot of these songs. These songs were just coming into being and being born, fusing the rhythm and blues in the country, the western swings and all these style and kinds of creating all these rock…and roll. Haha! It wasn't familiar before as at that time. I mean this is only 1956, and this is really the beginning and birth of something special."
He further said this "I charge people to stay and see it; it's gonna be bass or something I think. I mean it's a million dollar. And with inflation, it's like a billion dollar quartet. So, hahaha, it's gonna be a great experience for the aliens, for the players, and it's just gonna be a flip back side of energy, and no doubt!
Bill Millerd directed the million dollar quartet, and the musical director, Zachary Stevenson also did a great job. Other names in the production list include Valerie Easton, Barbara Clayden, Caryn Fehr, Gerald King, Ted Roberts and others.