Space is often called the final frontier. It has vast and unimaginable depths that we have yet to even dream of exploring. What we can see and what we can understand of the cosmos is barely scratching the surface of the wonder and mystery that lies outside of our atmosphere.
Substitute the word 'ocean' for 'space' and the human experience changes very little in regards to how much we know and how in over our heads we are when it comes to oceanic exploration. With over 70% of the globe covered in water we have a lot of searching left to do: who knows, we may even find things more unbelievable in years to come.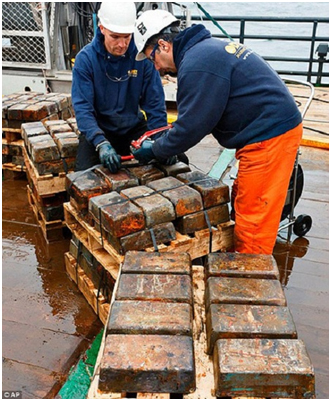 9. Lost Silver of the Third Reich
This one wasn't put there by Mother Nature. Over 61 tons of silver valued at over $36 million has been recovered from the Atlantic Ocean. The silver is part of the remnants of a British cargo ship that was torpedoed by Nazi U-boats in 1941.
The good news, researchers believe that this haul is only about 20% of what the ship had been carrying. There is a literal fortune sitting on the ocean floor.
While this hasn't actually been pulled out of the ocean it is fabled to be a monstrous tentacle beast that is thought to exist within the darkest and deepest ocean depths. No list of weird stuff from the ocean would be complete without an entry for this guy.
While any 'evidence' so far has been the bodies of sailors that have washed ashore and the legends passed down from one sailor to the next, video footage of an adult giant squid was achieved in 2012 further solidifying the myth of the Kraken. If the legendary giant squid is real then who is to say that the Kraken isn't also lurking down in impossible depths?
Deep sea fishing in the Indian Ocean has over the years unearthed more species of shark than scientists and researchers thought possible including some pretty strange new predators. The pictured draughtboard shark has a unique camouflage pattern and others brought up from the depths have needle like spines protruding from them.
While it's not Atlantis, it is an entire city that has fallen beneath the waves. The city of Thonis off the coast of Egypt has proved a wealth of archeological information for divers seeking to learn the secrets of the ancient world. The foundation of Thonis dates back over a thousand years and divers and salvage crews are still uncovering new treasures that can give us a glimpse into our past.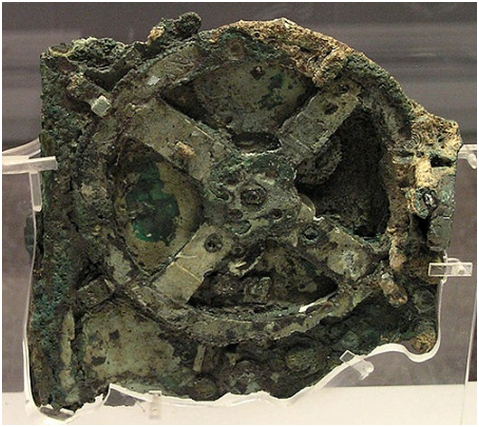 5. An Unbelievable Contraption
This is what is thought to be an ancient computer that was recovered from the ocean floor in 1900. It is the oldest, and incredibly advanced, complex gear mechanism that has been found to date. Based on its complexity researchers believe that it was used to calculate the movements of the stars for the ancient Babylonians.
Evidence suggests that this is much more technologically advanced than scientists thought possible for the time period, a fact which raises more questions than answers.
The MS Zenobia, a cargo ship carrying a full load of vehicles, sunk off the coast of Cyprus. Now, thirty years later, the submerged wreckage of the ship and her cargo of over 120 vehicles still lay on the ocean floor.
While this colorful eight foot tall, 100 pound sculpture is clearly man made, it (or copies of it) have a habit of washing up on at least four beaches around the world. Often seen as a prank or stunt his chest bears the inscription 'no more real than you are'.
Remember the Kraken? This giant eye ball was found on the beach in Florida. At approximately the size of a softball, the giant creature that it must have belonged to could only be a true monster.
Speaking of monsters, this guy fits the bill and then some. After washing up on a beach in New York in 2008 this specimen has been the center of a furious debate.
It was identified by authorities as the heavily decomposed corpse of a raccoon but there are those who are not so sure. To add to the mystique surrounding this odd beach find no one has come forward claiming to have seen it in person and the carcass cannot be found.
This in itself would not be cause for alarm save for the fact that the federally owned Plum Island Animal Disease Center is located near the beach where this strange animal was found. The Plum Island center already has a host of wild conspiracy theories surrounding its operation and this bizarre discovery has only fueled those fires.
There are those who believe that this carcass was that of an escaped experimental animal that died in the water, material proof of which was quickly squashed by the mad scientist researchers on Plum Island.
Then again, it's probably just a raccoon.
Source: istverse.com
Source: oddee.com