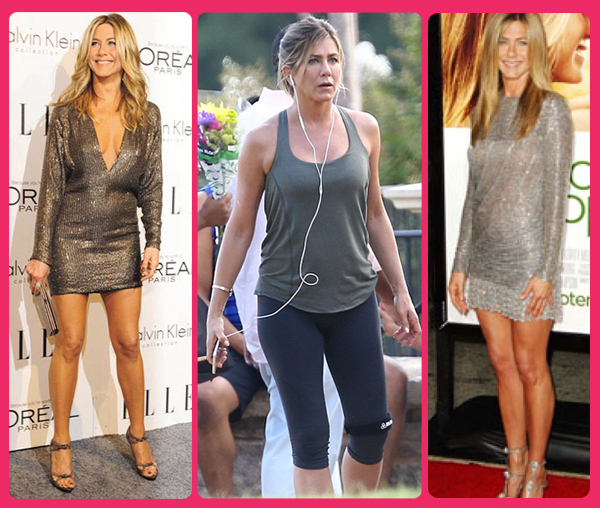 Looking at Jennifer Aniston today, it's hard to believe that Friends last aired more than 12 years ago. Now in her late 40s, Jennifer looks the same as she did in her 20s, maintaining her signature casual-yet-elegant style and her health through a routinely healthy diet and workout routine. Here are the secrets that have kept Jennifer looking and feeling great all these years, and why each of them works.
Jennifer Aniston's Diet
While many Hollywood stars discuss indulging sensibly, or having a weakness for cheeseburgers and just working off the calories, Jennifer Aniston does not lie about having to stick to her diet year-round. She's very committed to eating only what is good for her body. She focuses on the following core tenants for her health:
Eat a diet largely made up of organic fruits and vegetables.
Avoid sugars as much as possible.
Drink as much water as humanly possible. (She's even the spokesperson for Smart bottled water.)
Get plenty of rest.
While these sound like easy rules for most people to follow, it is Jennifer's commitment to really following through with them every day, with no exceptions, that keep her healthy. Her specific diet plan is called a Zone diet, which consists of 40% fruits and vegetables, 30% lean protein like chicken, turkey, fish, and tofu, and 30% healthy fats like fish oil and avocados, at every meal.
She doesn't depend on fancy, expensive health foods to maintain her diet. Simple foods, prepared with flavors that Jennifer loves (namely, Mexican-inspired flavors), and a commitment to never cheating on her diet make up her eating habits.
Jennifer Aniston's Workout
Jennifer's workout routine is as simple as her eating routine, but once again, it's her dedication to sticking with it that makes all the difference. Jennifer does spin-yoga classes (30 minutes of spinning followed by 30 minutes of yoga) several times a week. Three more days a week are dedicated to weight training, and she supplements these days with a simple 45-minute cardio routine that includes biking, treadmill running, and using the elliptical. No matter what she has scheduled for the day, she keeps her workouts down to about an hour a day, and she takes Sundays off to give her body a rest.
When asked about her dedication to a plan that could become boring to others, Jennifer says that she uses food like a carrot. She thinks about having a big Mexican meal that weekend, and works out to earn the meal. She also says that it comes down to just "biting the bullet."
This works to keep Jennifer healthy because, at the end of the day, the precise movements that we do aren't as important as the regular habit of doing some movement. Jennifer found a system that works for her, and rather than chasing new fads or trends, she simply stuck with it until it became second nature. These days, she barely even has to think about motivating herself to work out or eat right – and that's a goal that we should all strive for to create healthy bodies.