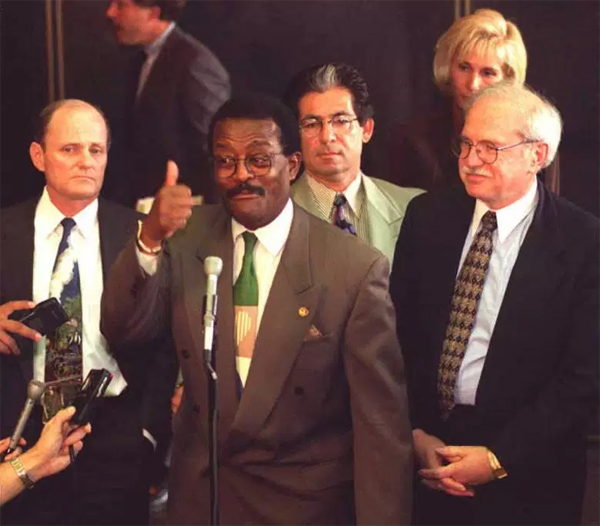 There is no need to issue a spoiler alert when it comes to the infamous O.J. Simpson trial. At least, the first trial for which he was brought up on murder charges for the deaths of Nicole Brown and Ronald Goldman. He was found not guilty.
Many people were unsure as to what the outcome of the seemingly endless trial might be, even though he did have the "dream team" on his side. A legal defense team made up of some of the biggest and brightest legal stars of the era. Let's look at seven facts you should know about the O.J. Simpson attorneys:
1. Who were they? Alan Dershowitz and F. Lee Bailey were two of the most famous names, but there was also Johnnie L. Cochran, Jr., Robert Shapiro and Robert Kardashian. (Yes, that is the same Kardashian you are thinking, and he is the late father of Kim, Rob, Khloe and Kourtney). This was an unprecedented assembly of the biggest names available, and it is doubtful that the public will ever see such a gathering of forces again.
2. The Kardashians are famous because of their dad? In a word: yes. Robert had been one of O.J.'s best friends and appeared in the spotlight during the trial. Though the Kardashian marriage did not weather the media storm, the family remained in the spotlight when Kris married Bruce Jenner (now Caitlyn Jenner) and when Kim became a stylist to the stars. Reality TV spurned more interest, and today they are far more famous than their father ever was.
3. Johnnie Cochran was as famous as the other lawyers, but only in the world of celebrities. Before O.J. he had been the legal counsel to Stevie Wonder, Michael Jackson, Magic Johnson and many more. He had a distinct strength with high profile cases and could handle the media easily with his larger-than-life personality.
4. LegalZoom is due to the O.J. case – Well, it is due to Robert Shapiro's work on it. He started the DIY legal website, which offers custom document creation for individuals and small businesses, after the case was finished. He actually didn't create it but was asked by a group of business experts to put his name to it, and thus we have instant legal documents through the site.
5. F. Lee Bailey was already famous long before Simpson – The world had already developed respect for F. Lee Bailey decades before he became part of the Dream Team. He had, as one group says "already carved out a place in American legal, and pop culture, history." By defending the Boston Strangler (Albert DeSalvo) as well as Sam Sheppard (who inspired "The Fugitive" TV series and film), he had become a household name.
It took nine months of testimony and four hours of jury discussion to clear him of the charges. Though he is in jail for other, unrelated crimes, he will always be known for this one, historic and truly unforgettable case and legal team.