It seems as if every year there's a hot, new artist whose music is taking over the airwaves and being blasted through the car speakers of millennials. Some of these artists are genuinely talented, while others are expected to only be one hit wonders. Of all the stars who have popped up on the music scene in 2015, very few have had what it takes to wow listeners and gain recognition internationally. While others have failed to make the cut and stay relevant, Canadian singer-songwriter Alessia Cara is proving that she has serious plans to stick around.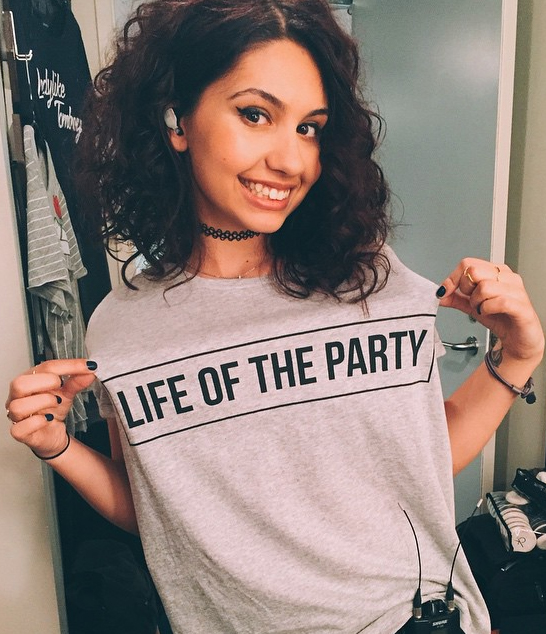 Music lovers have probably heard her name being dropped by fans of hers, but have yet to really find out who this Alessia Cara person is or what makes her stand out in a very large sea of young, talented artists. Before Cara was on stage serenading fans with her unique, jazz-like voice, listeners could tune into her YouTube page, which she started when she just 13-years-old, and listen to her covering songs by various artists. She has covered songs by the late Amy Winehouse, The Neighbourhood and Justin Bieber, who is also from Canada.
Following her discovery, Cara signed to Def Jam and made her world musical debut when she released her single "Here" in spring this year. Touching on the topic of partying, but not truly enjoying the experience, Cara took a queue from her musical influences, Ed Sheeran and Amy Winehouse, choosing to dig deep and write a song that many people her age could relate to, but also sharing her honest opinion on the matter. Not only has the track gotten attention from Cosmopolitan, Spin Magazine and Complex, but it made Billboard's list for "20 Pop Songs You Need For Your Summer Playlist," which is a big accomplishment for a new artist.
So, what's next for Alessia Cara? She may have only released one single, but she isn't stopping there. The 19-year-old is currently on tour, stopping in various cities around the U.S. and even making her way across the pond to perform in London. More recently she made her television debut when she performed "Here" on The Tonight Show Starring Jimmy Fallon. With Cara garnering attention from audiences of all ages, many people may be anticipating the release of her forthcoming studio album Four Pink Walls, which is due out at the end of August.
Even though only time will tell if Alessia Cara will continue to make hits, at this point in time it can be said that Cara is making waves and turning heads with her talent and versatility. She may be young, but her words are real and powerful, which is something that is a rarity from someone in her demographic. With her voice being a combination pleasant, sweet and soulful, and often being compared to that of Lorde, Cara may become a force to be reckoned with if she proves herself to the world. Until the album drops, people can check out the video for "Here" and past covers Cara has done on YouTube.
References:
http://www.defjam.com/artists/alessia-cara/
https://en.wikipedia.org/wiki/Alessia_Cara