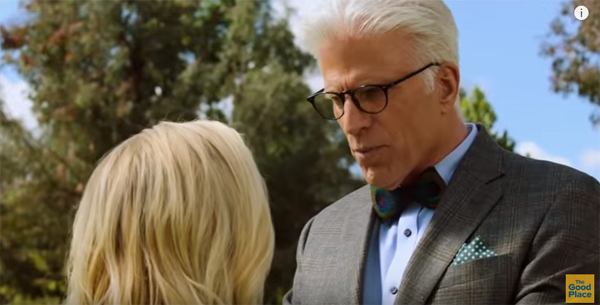 If the creator of "Parks and Recreation" and "The Office" can maintain his track record, then this fall's "The Good Place" is sure to please. It is set to star comedic experts Kristen Bell and Ted Danson and is based on a very simple principle: a woman dies and goes to the "good place," when it is clear that she has led a life in which she should have never ended up there.
This is where the story begins…and according to Variety: "Eleanor learns that a clerical mistake has been made, and she's not supposed to be in the good place. She can't let this be known, given the alternative. So she has to hide in plain sight — and somehow try to be a better person."
Executives at NBC did not even want to test the series with a pilot, opting to buy the story and produce it for fall production. This, creator Mike Schur says, will allow the show to "unfold far more deliberately. There's a lot more room to be funny, hopefully, and tell a more interesting story."
In an unusual programming strategy, the show is going to feature only 13 episodes and use a "short run". This has left industry experts excited by the prospect of tighter storytelling, and the casting is another huge element of the buzz.
Bell is a contemporary star with a huge fan following for her quirky humor and natural skills as a comedian. Danson is coming off a long run in drama and dark comedy, returning to straightforward humor many years after finishing up on "Cheers". The show is touted as traditional comedy, and has been described by creators as energetic and fun.
So, how will the writers create a following for a show about a woman who wakes up dead, and through a clerical error ends up in the good place rather than her actual, authentic destination? The creators have cited the use of simple humor and unusual settings. Creating a "folksy version of heaven, a town filled with stores called 'Everything Fits' and 'Warm Blankets' and 'Infinite Light' and 'All the Books.'" Of course, there is also the fact that in "heaven" everything is meant to provide you with your ultimate level of happiness.
Because of this, heavenly homes are decorated to suit our favorite styles. In the case of Bell's Eleanor, the clerical error spills over into this area and her home is jarringly decorated with a startling number of clowns. She is also in a place without swearing, alcohol, and an overabundance of frozen yogurt.
What else do we know? Until now, the creators of the show have been tight-lipped about the plot, promising only one of the most unique half-hours of programming in a long while, and with quality performers headlining, it is likely to be a "good place" to find yourself on Thursday evenings. It will debut on Monday, September 19 and then move to a Thursday evening slot at 8:30 PM.