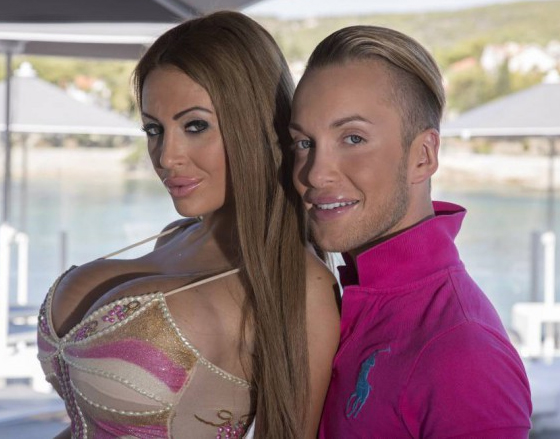 We've all met little girls who absolutely love their Barbie dolls, and we've heard of a couple of women getting breast implants and other cosmetic procedures to look more like the famous doll. However, we've never seen anything quite like this. Anastasia Reskoss, 20, and Quentin Dehar, 23, are a French couple obsessed with becoming a real-life Barbie and Ken duo.
While they live in France and travel the world to get their procedures done to look like the famous dolls (over 15 procedures each so far, costing upwards of $308,456), Anastasia is actually Russian. Born in St. Petersburg, she left Russia for Paris to attend university, where she met Quentin, who is originally from Marseille, France. Both of them come from wealthy backgrounds, and their families actually help fund their surgeries so that they can achieve their dreams of being Barbie and Ken together.
Family Support for Barbie and Ken
They haven't just gotten financial support to have their surgeries, though. According to Dehar, "Our parents don't call us Anastasia and Quentin anymore – they call us Barbie and Ken." And it seems that the two were destined for each other, as they met three years ago at a St. Tropez boat party, where they started to get to know each other and found out that they shared this unique obsession to become living versions of their favorite dolls.
A Transformation Down to Every Detail
When you think of Barbie, you might just think of blond hair, a tiny waist, and an impressive cup size. And when you think of Ken, you might just think of a decent set of pecs, plastic hair, and built-in underwear. But these two have studied Barbie and Ken thoroughly, and they want to emulate every aspect of the two.
For example, Dehar is interested in more Botox injections to further make his face look like Ken's, as well as pectoral implants to emulate that manly chest. Anastasia wants larger breast implants, of course, but she's also looking into removing her under eye bags, reshaping her ears, and getting dental veneers to achieve Barbie's winning smile.
The Barbie and Ken Lifestyle
Of course, Anastasia and Quentin don't just want to look like Barbie and Ken – they want to be Barbie and Ken. Once they're finished with their surgeries, they intend to legally change their names, and they want to continue to jet around the world, living the glamorous lifestyle that Mattel has created for Barbie and Ken in real life.
Their obsession may be strange, and they may never be finished reshaping themselves to become their favorite couple, but this much is for sure: Anastasia and Quentin are inseparable. Since meeting, they've wholeheartedly pursued their dream together, and they thoroughly enjoy every step of their transformation.
So what do you think? Can their love for Barbie and Ken keep them together or are Anastasia and Quentin going to wake up one day and realize that there's more to life than becoming a living doll?