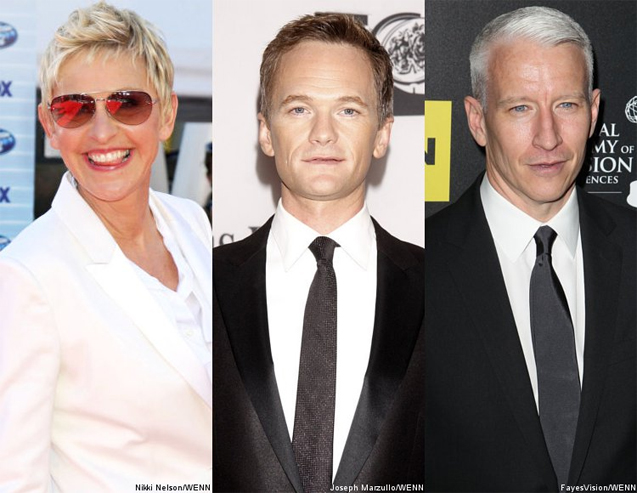 It seems coming out of the closet is the in-thing to do nowadays. Everybody who is anybody seems to be announcing to the world that they are gay, lesbian, bisexual, or transgender. It is almost hard to believe that the glbt community only makes up about 2-3% of the United States population. Of course this would be a little more than six million people.  Maybe it just looks like a lot because it is all over the media. This article will look at ten entertainers who have recently announced to the world that they were not entirely straight.
10. Rob Halford
The former member of the heavy metal band Judas Priest came out of the closet accidentally when he was interviewed by MTV back I 1998.
9. Billie Joe Armstrong
Another rocker who came out back in the 1990's was the front man for the band Green Day. Actually, Billie came out as bisexual so he likes to get the best of both worlds.  Billie Joe has been with his wife Adrienne ever since 1994.
8. Jordan Knight
The ladies who grew up watching New Kids on the Block (NKOTB) will be disappointed to hear Jordan Knight came to terms with his sexuality.  It's ok ladies, you still have Donnie, Danny, and Joey who still like women.
7. Michael Stipe
The lead singer of REM has no problem identifying as glbt although he clearly puts the "q" in queer. Stipe also refuses to define what his sexuality means to him. As long as he is happy, that is all that matters. Isn't that what the word gay used to mean so long ago?
6. Jim Parsons
Taking a break from the musicians to note that the actor who plays Sheldon Cooper on the hit sitcom Big Bang Theory came out of the closet during the early years of the TV show. Jim's partner is Todd Spiewak and they have been doing everything from the laundry (no subliminals here) to walking the dog for well over ten years. Bazinga!
5. David Hyde Pierce
The four time Grammy winner for playing Niles Crane in the 1990's sitcom Frasier, as the brother of the lead character, came out in 2007 when he made public his relationship with his lover, Brian Hargove.  The two were married a year later and are now living happily ever after.
4.  Lady Gaga
This singing sensation is currently engaged to Taylor Kinney but made it obvious she had certain tendencies toward women in her song Born this way. Well, that and she has been known to take dips in the "lady pond" a few times, or more than a few until she met Taylor. Lady Gaga.
3. Miley Cyrus
We knew the former Hannah Montana was a little different when she was twerking on live TV during an awards ceremony about a year ago.  The daughter to one-hit country singer Billy Ray Cyrus made her bisexuality known when she told her mother about her fascination with women at the ripe age of 14.
2. Raven Symone
Remember the little girl in the final years of The Cosby Show who went on to star in Hangin' with Mr. Cooper during the mid-1990's? Over the last decade Raven starred in the cable TV show That's so Raven.  More recently, she came out as a lesbian but says she does not care for labels. All she really wants to do is just love people. Good for her!
1. Chely Wright
The first openly gay country singer came out in recent years on the Ellen Degeneres show as gay. In 2011, she married her partner Lauren Blitzer. The two lovers have two sons, Everett Joseph and George Samuel.  On being gay, Chely discloses that she hates the word "tolerant" because it makes her sound like something evil that needs to be tolerated.
There are many more on this list but these are just the ones who came out in recent years. The stars like Freddie Mercury of the hard rock band "Queen" and the "Village People" are to name a few. Sometimes the name of the band just gives it away.  It seems like there are more musicians that come out as gay than anything. Of course when you are on the road all the time and surrounded by same-sex band members, there is bound to be a little slap and tickle going on. Kind of like being in a monastery when you are surrounded by other monks and cut off from the nuns.
References
E Bishop Wooten
The Liberal Conservative Blog
http://ebishopwooten.com