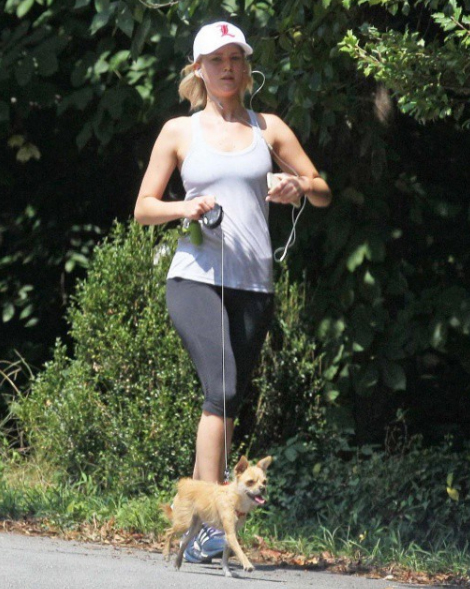 Starlet Jennifer Lawrence has already made a name for herself as one of the most talented young actresses in Hollywood. Her attitudes about healthy bodies and appearances has also set her apart from the skinny-obsessed culture of the stars. Known for finding joy in food and for pointing out how being too thin can be harmful, Jennifer has offered young women and girls a role model for healthy weight loss.
For her role in The Hunger Games, Jennifer had to maintain an athletic appearance, as well as the ability to perform difficult stunts as the warrior character Katniss. In her role as Mystique for X-Men, where she appeared mostly in body paint, Jennifer had to be even more conscious of her body's appearance. In order to keep her body in peak condition, and not give up her favorite foods, Jennifer followed a strict exercise regimen.
Jennifer Lawrence Workout
The first rule of Jennifer's workout plan is to break up her exercise throughout the day. Rather than working out for hours at a time, she focuses on 20 or 30-minute bursts of activity to keep her motivation going throughout the day. These sets of activity start with either a walk or a morning jog, and then include high-intensity interval training circuits throughout the day.
Rather than weightlifting, Jennifer focuses on bodyweight exercises, like squats, pushups, and planks. Her trainer explained to Elle magazine that this focus keeps Jennifer from making any excuses to skip training – when there is no equipment needed, it's harder for her to get out of doing the work.
Jennifer is also a lover of yoga, and uses a regular yoga routine to keep her body limber and to improve her ability to perform the stunts needed for her high-action roles. Her trainer reported that many times, after having several hard workouts in a row, Jennifer would request yoga to give her body a rest.
Jennifer Lawrence Diet Plan
It's no secret that Jennifer's diet consists of things that many celebrities wouldn't be caught dead eating. From scarfing down pizza in her ball gown at the Oscars, to frequently derailing interviews with conversations about French fries, Jennifer's love of junk food is something we can all relate to.
But her trainer says that Jennifer eats these things wisely, indulging only occasionally. The rest of the time, her diet is made up of what he calls "sensible snacks", such as popcorn, celery topped with peanut butter, Greek yogurt, and hard-boiled eggs. Rather than focus on a specific eating plan (such as a low-carb, high-protein diet, favored by many other stars), Jennifer's eating plan is more about eating the right amount of calories, and enjoying a variety of healthy foods.
By giving her a diet plan that she could follow, one that included occasional splurges and treats, Jennifer's trainer was able to keep her lean for her most challenging roles.
Jennifer Lawrence doesn't follow a fad diet or exercise plan that promises fast results. Instead, she plays to her own strengths, allows herself to enjoy food in a sensible way, and puts in the hard work necessary to keep her body looking great.