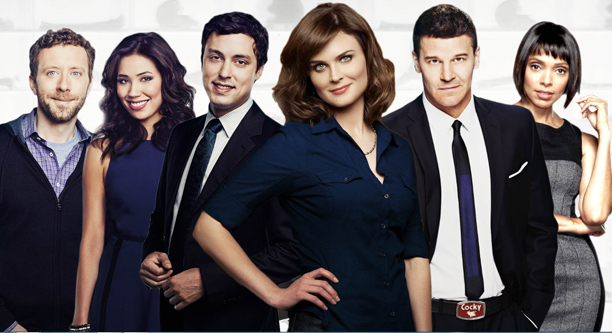 I can't believe that the first episode of Bones aired almost 10 years ago. The show certainly grew in a wonderful way, the characters evolved, the dynamics changed; but Bones somehow managed to preserve its charm and novelty as years went by.
The 200th episode aired on Thursday, and it was everything fans could ever wish for: familiar faces coming back for the reunion, a unique setting, and a captivating story that shows Bones knows how to really have fun when it's not busy crushing us with all that drama. Set in the '50s, The 200th in the 10th really captured the spirit of the decade, at the same time allowing the characters to stay true to who they are, for the most part ('50s Cam was really different from today's Cam, don't you agree?).
In honor of the shows special anniversary, we came up with ten reasons why Bones remains one of the greatest shows on television.
Temperance
Temperance Brennan isn't perfect, not by a long shot. She's cold, abrasive, and annoyingly logical. Which only makes us love her more. Bones is a unique combination of intelligence and social awkwardness; she has a compelling back story and her own view of the world which she isn't shy to share, even when the circumstances get uncomfortable. She's fierce, but also vulnerable. She's tough, but also sensitive. As years went by, she learns how to become more open, consider other points of view, and allow herself to have a happy ending. Seeing her evolve has been a highly enjoyable experience. More, please!
Bones and Booth
The relationship between these two has always been magical. Everyone could see that they have chemistry from the very beginning; however, the showrunners were set on testing our patience. When they finally got together, it was everything we ever wanted and more. Their love is an inspiration – they're different in so many aspects, but they found a way to make those differences work. What's even more awesome is that we had the chance to see their relationship deepen over time. They went from coworkers to partners and really close friends before they both admitted they're crazy about each other. So sweet!
The squinterns
The squinterns' rotation is one of the things that keeps the show fresh. Each episode, another intern assists Brennan on the case; and they all bring their unique stories and problems into the mix. From Daisy, who just had a baby, to Wendell, who's dealing with a life-threatening illness, to Jessica, who craves a certain dose "creativity" in science, contrasting with Brennan's refusal to speculate. They're a fun bunch, all intriguing in their own way. We can't decide who our favorite is.
Aubrey
We loved Sweets, and his death was one of the most traumatic scenes we had to endure this year on television. When Aubrey showed up, he initially felt as a poor replacement, we'll give you that. However, as we got to know more about him, he slowly made his way to our hearts. He's goofy, incredibly intelligent, with solid case-solving abilities and a slight eccentricity which helps him fit right in. Welcome to the family! You'll love it here.
It's funny!
The show always manages to tickle our funny bone. Funky experiments, witty one-liners, clumsy social encounters – the show really knows how to keep a fine balance between drama and fun. Which brings us to…
The emotional rollercoaster
Ah, the feels! We rooted for Bones and Booth for years, we were ecstatic when Angela and Hodgins got together, we welcomed babies on the show, mourned people we cared about, we witnessed emotional stories unraveling and we were shocked by crazy plot twists. It was a great ride.
The science
There are plenty of things that Bones thought us as years went by. So much that we actually became fluent in squint talk. Sure, if you're a fan you can easily pick up the names of bones, muscles, and fracture patterns. However, the show also does a good job at including useful bits of trivia you never knew you would find interesting. For instance, did you know that the person with the highest recorded IQ is Marilyn Vos Savant? Only one of the many things we learned from Temperance. Also, Donna Cline, the forensic technical adviser for the series, always makes sure that the cases are as scientifically accurate as possible. So does Kathy Reichs, the forensic anthropologist whose life inspired the show. She's an executive producer.
The gruesome corpses
The show has some of the most gruesome corpses on television. If you don't have a strong stomach, we strongly advise you not to consume food while watching it. The gore plays well with the lighter tone of the series though, so we're not complaining. It's actually interesting to see how creative the creators of the show can get when it comes to murdering fictional folk.
The experiments
Hodgins is king of the lab for a reason: his experiments are either deeply amusing or extremely interesting. In short, extremely fun to watch. The Angelatron is also a thing of beauty.
It's not afraid to tackle big issues
Bones was never afraid to tackle serious issues: rape, abuse, the foster system, child soldiers, forgotten veterans – to only name a few. It does so with grace and compassion, managing to raise awareness about these severe matters in the process.
All in all, Bones is a great show, with brilliant casting, fascinating story lines, and plenty of banter which keeps viewers coming  back for more.
What's your favorite thing about the show? Sound off in the comments!