Birth Name (real name):
Usain St. Leo Bolt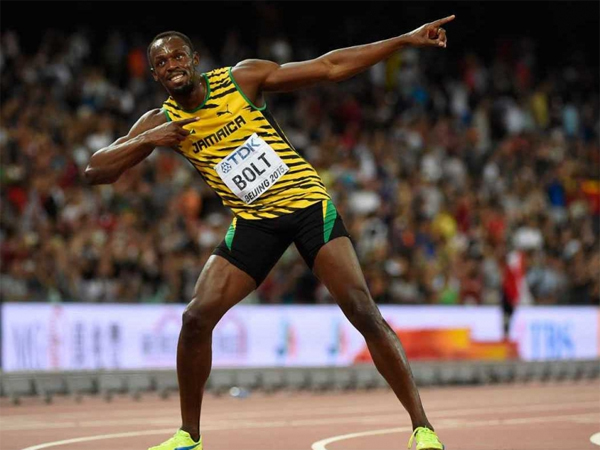 Height
Usain Bolt is 6′ 5″ (1.96 m) Tall. He is one of the tallest sprinters of all time.
Weight
Weight 94 kg (207 lb)
Body Measurements
Biography, Facts, Family
Usain Bolt is the fastest runner of all time and his height and long legs help him to gain speed his competitors can only dream of. Bolt was born on August 21, 1986 in the parish of Trelawny, Jamaica. He has become a true legend because of his track record in sprinting, running the 100, 200 and 4 x 100 relays. Bolt grew up with his parents, Wellesley and Jennifer Bolt, brother Sadiki and his sister Sherine.
Nicknames:
Lightning Bolt
Net Worth:
Usain Bolt net worth is $60 million in 2016.
Age – Date of Birth:
August 21, 1986
Birth Sign / Zodiac:
Leo
Place of Birth:
Sherwood Content, Jamaica.
Nationality:
Jamaican
Educational Background:
High School: Waldensia Primary, William Knibb Memorial High School
University / College:
Family / Parents:
Mother name – Jennifer Bolt
Father name – Wellesley Bolt
Job – Occupation:
Jamaican Sprinter / Runner (Track and field)
Body:
Athletic
Dating History Girlfriend / Spouse:
Usain Bolt and Jady Duarte made headlines in the news after the two were seeing partying together and later pictures surfaced with the two in bed. There are two things why people was mostly intrigued by this story. Number one, Bolt have a girlfriend in Jamaica who he was suppose to be getting engaged to on his return to the island. Number two, Duarte, according to the International Business Times UK, is the widow of drug lord Diná Terror and she ha two children for him.
Kasi Bennett and Usain has been dating since 2014, she is suppose to be his number one woman. After the track star record breaking performances in Olympics 2016 Brazil, it was also rumored that the two will be getting engaged soon.
Bold has also dated April Jackson, Megan Edwards, Lubica Kucerova, Rebeckah Passley, Taneish Simpson and Mizicann Evans.
Ethnicity:
Black Jamaican
Color of Hair:
Black
Colors of Eyes:
Brown
Physical Distinctive Features:
He is physically fit and very athletic.
Brand Ambassador For:
He has worked with Puma, Hublot, Virgin Media, Gatorade, Visa, Nissan, Comcast and Samsung.
Religious Belief:
Christianity
Well Known For:
Bolt is well know for his signature pose after winning his races. He poses like a lightning bolt.
Favorite Things:
He is best known for running fast and doing it in style. He also loves to party.
List of Facts / Trivia:
1. Usain Bolt took part in six Olympics, Beijing 2008, 2012 London and 2016 Rio de Janeiro.
2. He is the only athlete to have won the 100, 200 and the 4×100 m relay on two and three consecutive occasions. That is nine gold medals in three consecutive Olympic games. This feat has many people labeling the tall Jamaican as the greatest athlete of all times.
3. Bolt has been to the World Championships on five occasions where he won gold eleven times and silver twice.
4. Bolt was awarded "Order of Jamaica" for Outstanding distinction. Is is a honorary membership given by the government of Jamaica. He was also awarded Commander (CD), for Outstanding and important services to Jamaica.
5. Usain is the only athlete in history to hold the world record for both the 100 and 200 meters at the same time. His 100 meter record is 9.58 seconds set in 2009 and the 200 is 19.19 in 2009.
6. Bolt's current address is in Norbrook Terrace in Kingston, Jamaica. He has had complains from neighbors about his late night parties. Jodi 'Jinx' Stewart-Henriques, a jamaican model who lives next door to Bolt, said he is a bad neighbor.
7. Bold was involved in an accident where he crashed his BMW M3, he walk away with minor injuries even thought the car flipped over on the top.
Learn more about Usain at www.usainbolt.com
You may also like:
Paige Height Weight Body Measurements
LeBron James Height Weight Body Measurements
Twitter: @usainbolt
Instagram: usainbolt
Facebook: usainbolt