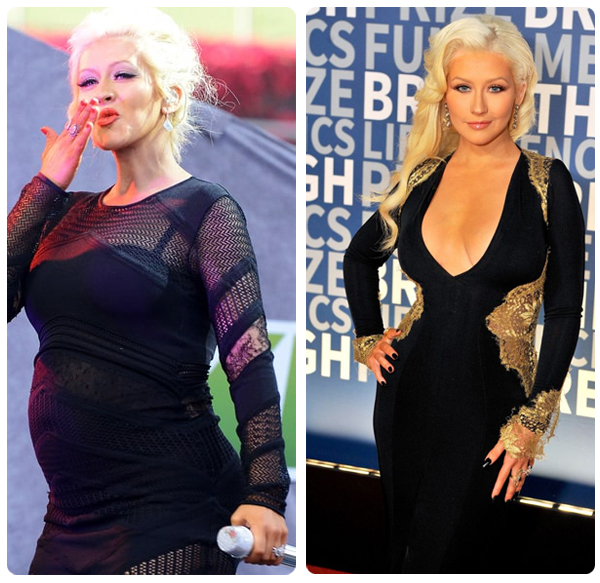 From her hit singles in the early 2000s, to her work on the View and her never-ending releases of successful albums, Christina Aguilera has frequently been a role model for women who want to emulate her toned, lean body. Aguilera is often seen dancing in music videos and at live shows, revealing an athletic ability that has certainly shaped her metabolism. After having two children (the youngest was born just two years ago!), Christina quickly dropped back down to her pre-baby size, and here's how she did it.
Anyone who remembers her performance in Burlesque will recall Christina's amazing abdominals. She achieved this through a rigorous routine that involved up to 500 reps of core strengthening activities like lunges, sit-ups, and push-ups. She's also addicted to weight lifting, which contrary to what many believe, isn't a surefire path to bulking up. Lifting 20-pound weights five times a week earned Christina the toned arms and legs she shows off in her shows.
She also uses yoga to stay fit and to keep her stress levels down. In fact, Christina did yoga all throughout her pregnancies in order to keep her weight gain down. The best way to lose baby weight is to not gain it in the first place, and she says it helps keep her centered.
While a routine of cardio, weights, and core exercises doesn't sound like too much fun, Christina finds other ways to keep active that don't feel like working out. In addition to dancing, she says she and her family keep paintball guns around the house, and regularly chase each other around for paintball fights.
For fuel, Christina follows the same diet that Kim Kardashian used to lose over 50 pounds: the Atkins Diet. We've all heard of it, but this low-carb diet has proven time and again to be one of the best ways to drop weight in a healthy way. Her diet includes antioxidant-rich foods like berries, as well as healthy proteins like turkey and chicken. She fills up on avocado and salad during the day, and splurges on a glass of wine at night. It's these small, healthy treats – in moderation, and careful portioning – that make a diet that consists mostly of meat and vegetables. If she's really craving a snack that breaks up the monotony, Christina eats shrimp cocktail or curry.
Overall, Christina's diet and exercise plan don't turn too far away from most of the advice we hear over and over: eat clean, watch your portions, lower carb intake, maintain a basic exercise routine, and find some fun activities to keep you active. These things are so often repeated for a reason. They work, plain and simple. It does take some doing – Christina works out five days a week, and trains for hours in dancing on top if it – but there's no magic formula to lose the weight in a healthy way. Christina embraces the work, gets obsessed with the things that do interest her, and that's how she's managed to be so successful.