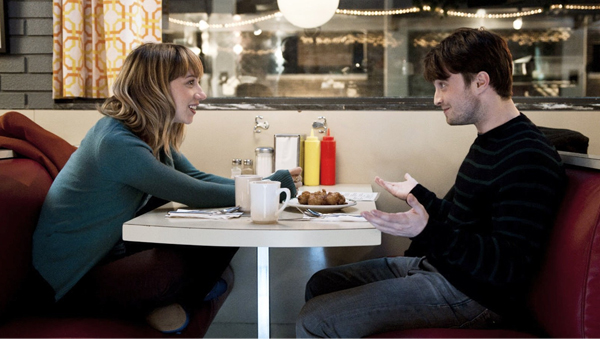 This year had plenty to offer in matters of memorable movies and brilliant performances. But while most of you certainly saw (or at least heard of) Guardians of the Galaxy, Boyhood, Interstellar, or most recently Into the Woods, there were a few great flicks that kind of flew under the radar. However, that doesn't make them any less worthy of your undivided attention. Here's a short list of ten movies you should check out before the holidays are completely behind us all.
What If
Boy meets girl. Boy falls for girl. Girl has a boyfriend. Boy befriends girl. Girl kind of falls for boy too. It's not quite the original story, but what makes this movie utterly wonderful is the witty dialogue and the undeniable chemistry between the main characters, portrayed by Daniel Radcliffe and Zoe Kazan. The supporting characters are also a big part of why What If is so much fun – their talks about love and commitment will surely be appreciated by every rom-com lover out there. Plus, I'd basically watch Adam Driver star in a Gigli remake, so there's that.
Force Majeure
A family is enjoying a pleasant ski holiday in the French Alps when they find themselves staring down an avalanche during lunch one day. What comes next is the interesting part, as their dynamic has been shaken to its core. Force Majeure makes you rethink patriarchy and gender expectations, if you haven't been doing that already with all the feminist talks that dominated the media in 2014.
Begin Again
Great music. Excellent acting. So many feelings. Also, did I mention the music? Begin Again is this year's Once, and it's heartfelt and charming and delightful. Keira Knightley and Mark Ruffalo deliver strong performances, while the movie leaves you with an optimistic feel that will prove difficult to shake off.
Dear White People
This movie isn't about white people – it's actually about four black people, more exactly students, who attend an Ivy League college populated mostly by white folk. Dear White People is funny, smart, twisted, uncomfortable at times. What it does best is manage to tell the tale of college angst combined with all the struggles that come with being a minority; and it shows how even unintended generalizations and misplaced comments can sting.
Love is Strange
That it is, regardless of your sexual orientation. The movie focuses on the story of Ben and George, who deal with all the complications that sometimes come with marriage, even after you've been to together for 39 years. When George is fired from his teaching post, the two are forced to stay with friends separately until they sell their place and look for cheaper housing – a situation that ends up affecting everyone involved. The audience can easily relate to the characters – you actually feel like you know them personally, which makes for an extremely satisfying viewing experience.
Obvious Child
Abortion isn't a subject that should be treated lightly, so it can be difficult to build a compelling romantic comedy around it. Somehow, Obvious Child does just that, blessing us with one of the most thoughtful comedies of the year. Jenny Slate plays Donna, a twenty-something comedienne whose life becomes suddenly complicated after she finds out she's pregnant with her one-night stand. The movie delivers a good mix of comedy and emotion, so it should definitely end up on your must-see list for the end of the year.
The Skeleton Twins
Kristen Wiig and Bill Hader are such a fun comedic duo – which is why seeing them tackle drama felt incredibly refreshing. The Skeleton Twins is about two estranged twin siblings who cheat death on the same day and reunite, hopefully to mend their relationship. It's a bit dark, but ultimately moving.
Only Lovers Left Alive
Only Lovers Left Alive is probably the best vampire flick to be released since Let the Right One In back in 2008. It tells the story of Adam, an underground musician, and Eve, a lover of everything beautiful the world has to offer. Their relationship survived several centuries and is still flourishing today, but their life gets pretty messed up when Eve's sister pays them a visit. What the movie lacks in storyline definitely makes up for in atmosphere and character study. Plus, it's filled with pertinent observations about humans, life, love, and everything between.
The One I Love
Ethan and Sophie are struggling with a marriage on the brink of falling apart when they are advised by their therapist to escape for a weekend in pursuit of their better selves. Surprisingly, the couple discovers an unusual dilemma that awaits them. The One I Love is funny and intriguing; it leaves you questioning all sorts of things, from what makes a relationship work to what you should expect from your partner.
The Babadook
If you're a fan of horror flicks, this one is a must-see. Despite its unfortunate name, The Babadook is freaky, fresh, and chilling. It's more of a fantastic psychological horror than a jump-scare run of the mill slasher film. Its subtlety and creepiness give the movie a great shot at becoming a horror classic.
What other movies do you think should have made our list? Sound off in the comments!