The front man of the sensational metal band Black Veil Brides has a lot happening right now. He recently played his first solo show as performer Andy Black, he married his long time girlfriend Juliet Simms, and his album has just hit Spotify. How does he have the time?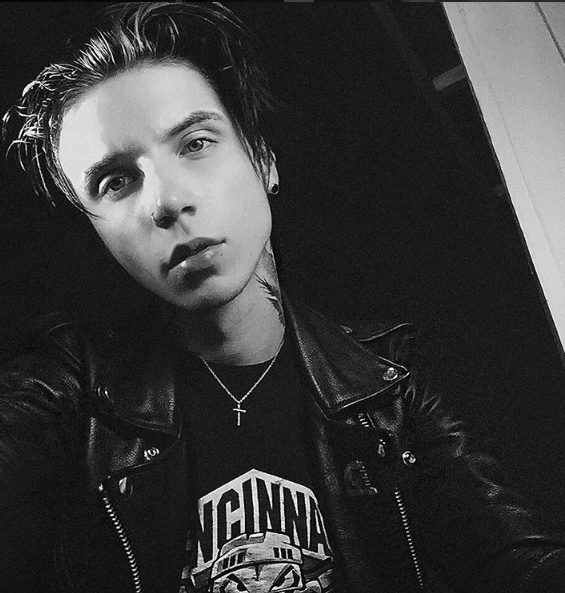 Andy Black, better known as Andy Biersack, initially announced he was starting his own solo career back in May 2014. He made it clear this new project wasn't going to be his main focus. He just wanted to take his own direction as an entity separate from Black Veil Brides. His first song was called "They Don't Need To Understand". The music video streamed first through the alternative style clothing company, Hot Topic. The track left fans wanting more, but Andy was focused on finishing the self-titled Black Veil Brides album that hit stores in October of that year. On March 17, 2016, Andy announced that his first solo album, "The Shadow Side" was going to hit stores on May 6. The following day, he gave a preview of the album by releasing a song called "We Don't Have to Dance". The album featured the same producer as Black Veil Brides, John Feldmann.
The album, which has just been released, has not disappointed the long-awaiting fans! As promised, "The Shadow Side" doesn't sound anything like Black Veil Brides, and has it's own completely unique sound. Andy has taken to finding his own voice, outside of his band, and it's amazing. The album is tentatively only being released digitally through iTunes and similar vendors (although limited copies of the album have been made in print). It features a track co-written with Gerard Way (former singer of My Chemical Romance, and writer of The Umbrella Academy comic series), and bass riffs by Mikey Way (former bassist of My Chemical Romance, and currently part of the duo Electric Century) called "Louder Than Your Love". Andy played his first solo show, as Andy Black, only two days ago on a stage in Los Angeles, California. He's set to start touring the United Kingdom on May 10. The North American tour stars just after on May 23.
Last month, it was rumored the musician had married his long time girlfriend, Juilet Simms. The ceremony was held on April 16, 2016 in front of friends and family. The couple has now gone on record saying they were married a long time ago. The second ceremony was held as a sort of hoax for the internet. Whether it was fake or real, the pictures from the ceremony were absolutely beautiful. They both looked so happy, and that's really all that matters. It's also good to see that even with Andy's busy and busier schedule, he can find the time to have a little fun.
So what does the future have in store for Andy Black? He says he'd like to go back to making music as Black Veil Brides as soon as he finishes with the Andy Black solo project.