Kylie Jenner turned 18 Sunday and to celebrate, boyfriend Tyga took the reality star out for a night of luxury, triple-x action at swanky Bootsy Bellows in West Hollywood. Kyle dyed her hair blonde for the occasion and wore a short and sparkly diamante dress.
Bootsy Bellows, owned by actor David Arquette ("Scream", et al), offers a one-of-a-kind atmosphere of prohibition-era opulence. VIP patrons are treated to an infamous "backroom" experience in an exclusive area of the club, which is out of sight from the rest of the glitzy establishment and features private burlesque performances. Named for Arquette's mother, who herself was a burlesque dancer, the WeHo hotspot is a hang-out for celebs of all stripes and basically everyone who's anyone in the Kardashian crowd was there Sunday night to see Kylie officially turn "of-age" including Kim, Kanye, Caitlyn Jenner and mom, Chris Jenner.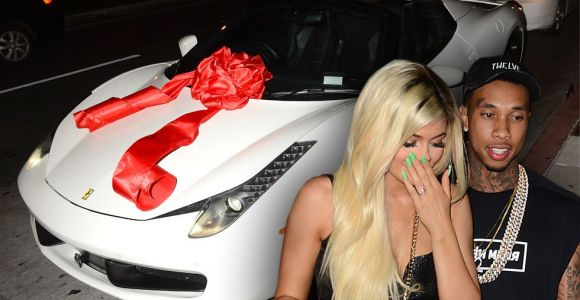 Other guests in attendance included: Joe Jonas, Gigi Hadid, Kevin Durant, James Harden, Kyle Massey, Nash Grier, and Zayn Malik.
But according to TMZ, it was Kylie's cradle-robbing boyfriend Tyga who stole the show (and presumably Kylie's heart), by presenting his barely-legal babe with a brand new, white, Ferrari outside the club, complete with a red ribbon on top.