The Vampire Diaries "Christmas Through Your Eyes" Recap: Have Yourself a Teary Little Christmas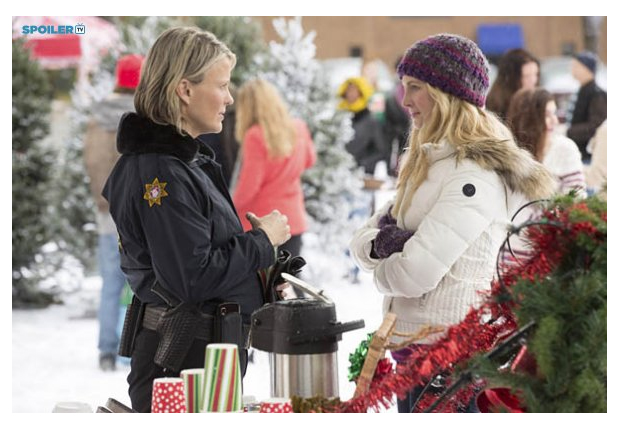 I really missed the days when my TVD viewing hours were spent screaming in front of the screen because of my unhealthy investment in the show's storylines. Luckily, they're back. "Christmas Through Your Eyes" was an excellent winter finale: bittersweet, intense, slightly traumatizing; exactly what you crave when you watch a teen drama involving love triangles and supernatural beings. I'll consider it an early Christmas present from Julie Plec… and now I feel bad I haven't bought her anything.
Since the subject of early Christmas presents came up, Kai procured one for himself – a face-to-face with his twin sister. After grabbing Jo from the hospital, "sociopathic Ryan Reynolds" convinces Liv, Luke and Tyler to retrieve the knife containing her magic from Damon's super-secret hiding place. He tries to force the magic back into Jo, but apparently it doesn't work that way. Since Jo gave up her magic by choice, she needs to decide to take it back. Nothing a little game of "let's kill Liv in a brutal way" can't fix. All in all, Jo got her groove back, and she's ready to fight off her brother as she was always supposed to.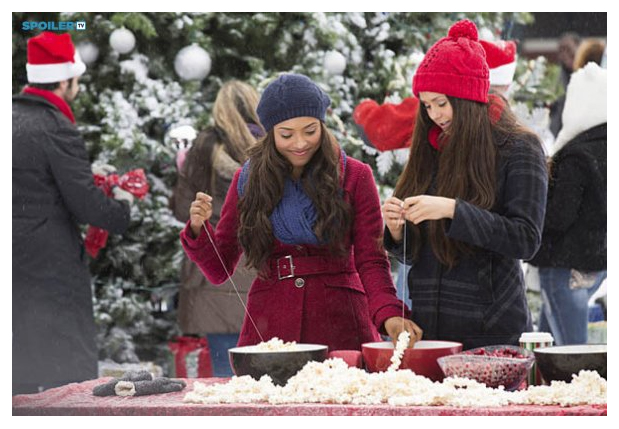 Damon and Alaric arrive to the rescue and even manage to restrain Kai for a little while, but this season's villain isn't one to let a pair of feeble chains stand between him and his burning desire to… bring on the Apocalypse? Rebrand pagers so they become cool again? Steal Blake Lively from sane Ryan Reynolds? I'm not exactly sure what him ruling the Gemini would look like, but let's say it comes with serious perks. Consequently, he figures out a clever way to suck up all the magic from the Travelers' spell that made Mystic Falls a no-magic zone. And he doesn't stop there. Later on, he puts a cloaking spell on Elena, who doesn't get to tell Damon how awesome she thinks he is yet again. Why, you ask? Isn't he a Delena shipper? I guess we'll have to wait until January to find out.
Elsewhere:
+ It's been clear from the very beginning that The Vampire Diaries is a show who hates parental figures, so I was beyond happy with the wonderful relationship we got to witness between Caroline and Sheriff Forbes during the last months. The sheriff even came to Whitmore to bring Christmas to Caroline, since she was unable to enter Mystic Falls. Aww.
And then it all went down the drain when the sheriff was rushed to the hospital and it was revealed she has a glioblastoma that has now spread to her brain stem. It was devastating. Surgery is out of the question and vampire blood can't cure cancer (which makes sense actually, since vampire blood heals wounds by regenerating cells; it would only cause the cancer to grow), so now Caroline has to deal with the fact that her great mother is dying. From natural causes nonetheless. And she can do anything about it. My heart aches. I think that Sheriff Forbes acted like a parental figure for everybody on the show during the last years, so seeing her go won't be easy for anyone.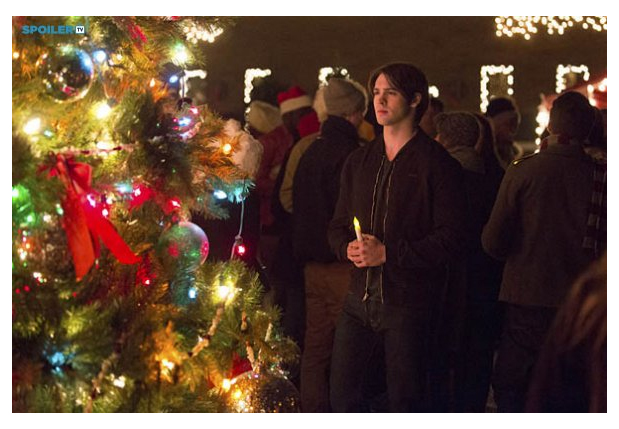 Caroline is crushed by the news, which is to be expected, but Stefan's there this time to offer some much-needed comfort. He truly acted like a friend, which kinda makes me want to forgive him for some of the crap he pulled during the first episodes of the season. He's not completely redeemed, but he's getting there.
+ Bonnie's storyline was heartbreaking as well. Still stuck in 1994 by herself and missing the hell out of her friends, she tries to recreate some of the cheerful memories she shared with them many years ago. She even manages to find a Christmas tree and decorates it before setting it on fire. The scene where she and Jeremy both look at the Christmas tree 18 years apart and pine after each other was sad and wonderful and perfect. I can't wait for Bonnie to come back to the present.
+ The award for the most ridiculous storyline of the episode goes to Matt and Enzo. After capturing Enzo with the help of Jeremy, Matt decides that instead of killing him instantaneously, as it would be logical under the circumstances, he wants to make Enzo suffer. So he throws the vampire in the back of a van and drives him through Mystic Falls just by the time Kai finishes up absorbing all the magic from the Travelers' spell. Bad timing for Matt, Christmas miracle for Enzo. Who then, instead of killing Matt for revenge, as a sane vampire would probably do, decides to let him live. And proceeds to confess how jealous he is of Stefan because he has everything. Dude, you're a good-looking, badass vampire with a cute accent. Go get your own girls. Make your own friends. Rule your own planet. Apparently mighty vamps can have self-esteem issues as well. Who would have guessed?
Other thoughts:
# I liked the fact that Liv actually believes Jo can defeat Kai. Why did everyone assume otherwise? Feminists, unite!
# Damon was highly entertaining this episode. "That's it? We're gonna kill bad guys together and you're not even going to talk to me?" (referring to Jeremy and Matt) "Beavis and Butthead are on the lookout." "Can I ask why we continuously compromise logic for some girl you just met?" Awesome.
# Kai continues to be a sociopath, but he's an extremely charming sociopath. I still don't want him to go anywhere yet.
# The flashbacks were very, very cute.
# Also loved the scene where the Salvatore brothers return to their home.
# I think my biggest dream for 2015 is to hear Jeremy say "Bring back my Bonnie to me."
Overall, a compelling episode that made for a pretty cool winter finale. The Vampire Diaries returns on January 22.