Birth Name:
Veronica Merrell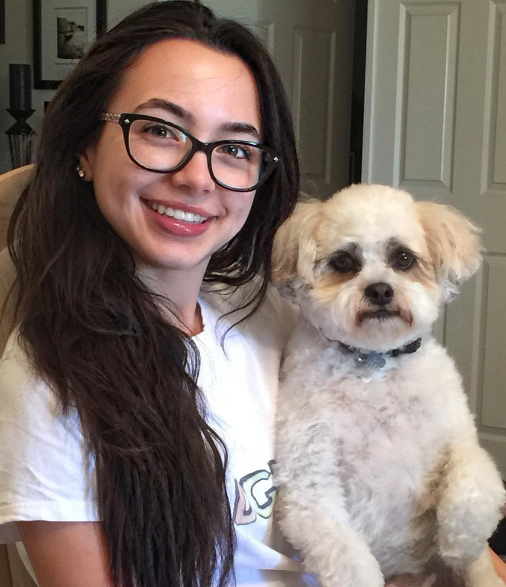 Height
Veronica Merrell's height is 5′ 5″ (1.65 m).
Weight
She weighs about 135 lbs.
Body Measurements
Measurements: 36-28-35
Dress Size: 8
Bra Size: 34B
Shoe Size: 7 (US)
Biography, Facts, Family
Veronica Merrell was born on August 6, 1996 in Kansas City, Missouri. She has an identical twin sister whose name is Vanessa Merrell and they are referred to as the Merrell Twins. They are both involved in acting, singing, song writing and YouTube blogging. You might have seen Veronica on The CW Television Network Jane the Virgin (2014 & 2015), MTV's Faking It (2015) and on the YouTube channel merrelltwins. The YouTube channel now has more than 1.2 million subscribers as of June 2016.
Nicknames:
Roni
Net Worth:
N/A
Age – Date of Birth:
August 6, 1996.
Birth Sign / Zodiac:
Leo
Place of Birth:
Kansas City, Missouri, USA.
Nationality:
American
Educational Background
High School: N/A
University / College: N/A
Family / Parents:
Mother name –
Father name –
Job – Occupation:
She is an actress, musician, singer, and song writer.
Association & Friend:
She is friends with Ryan Ardi, Gabriel Conte, Aaron, Ethan Dolan, Joe Weller, Kian Lawley and others.
Body:
Average
Boyfriend / Spouse:
N/A
Ethnicity:
White / Caucasian
Color of Hair:
Brown
Colors of Eyes:
Brown
Physical Distinctive Features:
Slim
Style, makeup, Dress and hair style:
She wears her hairstyle long.
List of Facts / Trivia:
1. Veronica Merrell appeared in "Standoff", a 2016 American thriller movie starring Laurence Fishburne and Thomas Jane.
2. The twins post videos every Tuesday with the intention to inspire and make people laugh.
3. They had the urge to be in the filming industry ever since the were kids and their father being a video producer helped to guide them in that direction. Their mother was a secretary at a school.
4. They made to move to California while they were in the sophomore year of high school. This was with the intention by their parents to get them in the right environment to pursue their big dreams to become actresses.
5. When the First Lady Michelle Obama launched her Better Make Room campaign, she invited Veronica and Vanessa Merrell to join her at the White House.
Check out their YouTube Channel.