Birth Name (real name):
Bharathi Rani Arunachalam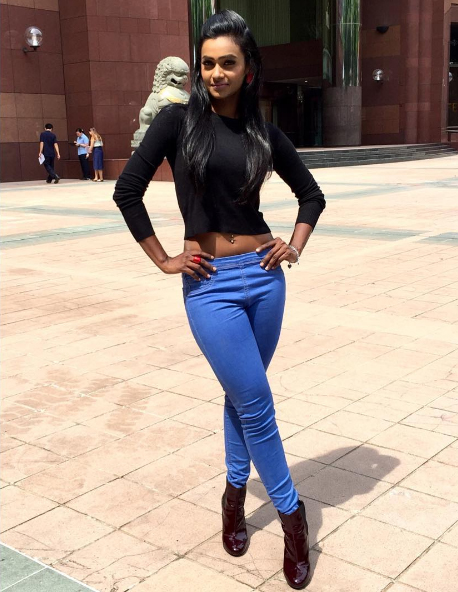 Height
5′ 4″ (1.63 m)
Weight
125 lbs
Body Measurements
Biography, Facts, Family
Bharathi Rani is an actress from Singapore, known for Long Long Time Ago (2016). She is also known for hosting popular programmes such as Vasantham Star, Enna Nadakkuthu, Dance Jodi etc.
Nicknames:
Net Worth:
Age – Date of Birth:
February 15, 1988
Birth Sign / Zodiac:
Aquarius
Place of Birth:
Singapore
Nationality:
Singaporean
Educational Background:
High School:
University / College: Nanyang Technological University, Singapore. SIM University. Management Development Institute of Singapore.
Family / Parents:
Mother name –
Father name –
Job – Occupation:
Actress, Host, Dancer, RJ, Voice Over Artist, Sketchfie Artist.
Body:
Athletic
Dating History Boyfriend / Spouse:
N/A
Ethnicity:
Mixed with Chinese, Malay and Indian.
Color of Hair:
Black
Colors of Eyes:
Black
Physical Distinctive Features:
Small and petite.
Style, makeup, dress and hairstyle:
She loves natural basic styles with little makeup.
First TV Show or Movie:
Long Long Time Ago
List of Facts / Trivia:
1. She studied mass communication at Nanyang Technological University, Singapore.
2. She does work for Mediacorp Pte Ltd, Learning Factory, and Shine & Grow. Bharathi also worked at Mediacorp Radio.
3. Her main languages are English and Tamil, which she speaks fluently.
4. She has worked with Eaglevision, Comic Book Productions, The Media, Tantra Productions, Pixel Productions, Verite Productions, Frames Entertainment, Live-Action Productions, Raadan International, Why Not Us Pte Ltd, Spectra Production, and Punch Production.
You may also like Erika Tham.
Follow her on Instagram @ bharathirani