Kelly Rowland, who got her start with the group Destiny's Child, has seen her body undergo some serious changes over the years. While her preference has always been to have plenty of curves for men to hold onto, she also knows that she needs to have a hot, almost perfect figure if she wants to stay in the public eye. While she was on the stage with Destiny's Child, all those high-energy dance moves and the hectic schedule kept her fit. Slowly, though, the singer started to gain a bit of weight after the group split and she got older.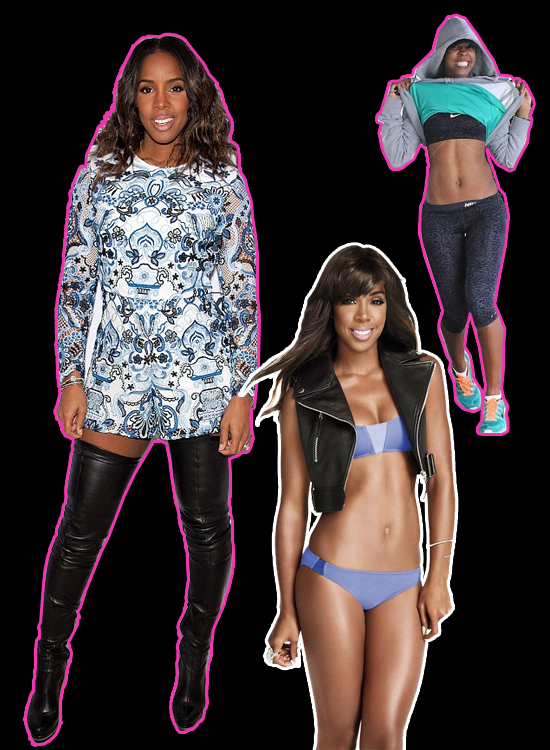 Baby Titan
In 2015, Kelly gave birth to her son, Titan. As happens with most women, there was weight gain accompanied by the changes to the body that occur during pregnancy. However, only 4 months after having her bundle of joy, Kelly Rowland was showing off her 70-pound lighter self, and she credits her trainer, Jeanette Jenkins, an 80/20 diet plan and her combinations of workouts for her toned physique.
Kelly Rowland's 80/20 Diet
If you think the only way to lose that much weight so quickly is to starve yourself, think again. Rowland follows an 80/20 diet plan. What this means is that she eats clean, healthy foods 80 percent of the time, while the other 20 percent is reserved for her favorite foods.
By following this method, your body gets the nutrients it needs to be healthy, without forcing you to starve yourself or give up the foods you love. This makes Kelly Rowland's diet plan easy to follow, especially since you won't have to give up having pizza, guacamole or any of the other less-than-healthy foods you love. The secret to success, however, is to make sure that the rest of your diet is made up of only healthy foods that are clean, or free from additives and fillers.
Kelly Rowland's Workout Plan
While we would all love to lose weight just by changing our diet, the real results can only be achieved through adding exercise as well. Jeanette Jenkins trains Kelly, helping to keep her motivated so she can power through those workouts. However, she also mixes things up so that Kelly is never bored – and that means her body and muscles are always changing the way they have to move, further helping her to increase muscle and become toned and fit.
Kelly Rowland follows a variety of exercise plans in order to get and stay fit. She and her trainer have their own videos, Sexy Abs and Sexy Abs Cardio Sculpt, which she also incorporated into her 70-pound weight loss.
Additionally, the singer mixes in days of doing power yoga, kickboxing and Bikini Bootcamp routines. It is also important to remember that Kelly does some form of workout six days each week.
If you have the determination and desire to drastically change your body the way Kelly Rowland did, following her diet and exercise plan will help you get the toned, healthy body you want to have.
Sources:
1. Dailymail
2. Thehollywoodtrainer