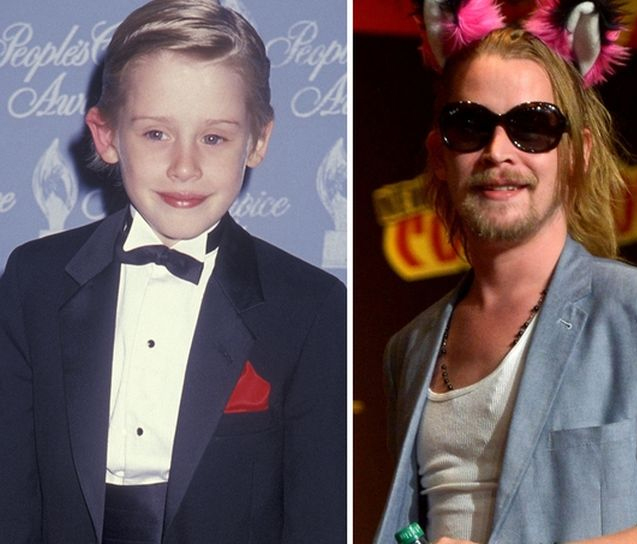 When it comes to the future of child stars the results are something of a mixed bag. It would seem as though the pressures associated with acting at a young age can make a real impression on youngsters and not always a positive one.
This flawed framework that was laid during their childhood can haunt them for the rest of their lives. The alternative is an early start to a career that blossoms into full-fledged stardom. Then again some child stars just fade away into mediocrity.
Let's take a look at where some of our favorite child stars are now.
10. Erik Per Sullivan, 'Malcolm in the Middle' (2000-2006)
---

Malcom in the Middle was a family staple for a number of years. While it seems like Frankie Muniz may have stolen the show (and Breaking Bad's Bryan Cranston later became a highly recognizable face) Erik Sullivan, who played Malcom's younger brother, went on to enjoy roles in films such as Joe Dirt, Unfaithful, and Finding Nemo. Now in his college years he is attending the University of Southern California.
9. Malcolm David Kelley, 'Lost' (2004-2010)
---

The young actor that played Walt on Lost has not faded out of view. In 2010 after the show was over he started in a role for TeenNick's Gigantic and when that ended he can be seen showcasing his pipes in Columbia Records' duo MTKO.
While we may all have liked to see his role in Lost, it really is for the best that his career didn't stay on that island.
8. Monica Keena, 'Dawson's Creek' (1998-1999)
---

While Keena's career started out in films such as While You Were Sleeping where she played a sweet child, her nastiness on Dawson's Creek garnered her arguably much more fame. Later she appeared in Undeclared and Entourage but her fame has taken a turn for notoriety instead.
During her relationship with fellow child star Edward Furlong his repeated arrests concerning domestic violence have garnered significant negative press for the young actress.
7. Austin St. John, 'Mighty Morphin Power Rangers' (1993-1994)
---

St. John played the original Red Ranger on Mighty Morphin Power Rangers, but a contract dispute took him off the show. He returned to the Power Rangers franchise in 1996 for Power Rangers Zeo and Turbo: A Power Rangers Movie. Though he was an accomplished martial artist, St. John left Hollywood and now works as an EMT and firefighter in the Washington D.C. area.
6. Jason David Frank, 'Mighty Morphin Power Rangers' (1993-1996)
---

St. John's co-star on the Mighty Morphin Power Rangers Jason David Frank saw a similarly one track career. Though he did star in several episodes of Sweet Valley High in the mid-'90s his passion for martial arts led him to an induction into the World Karate Union Hall of Fame in 2003.
He is now a competitive mixed martial artist.
5. Justin Lee, 'Arrested Development' (2004-2006)
---

Lee played Lucille's adopted Korean son on Arrested Development. He has since had a recurring role in ABC Family's 10 Things I Hate About You and is slated for the return of Arrested Development.
4. Jeremy Jackson, 'Baywatch' (1991-1999)
---

Jeremy Jackson starred as Baywatch's Hobie but his story is a difficult one. He left the show due to his struggles with substance abuse and was shorty arrested for drug possession. He underwent a public 'cleaning up' but was soon in trouble again.
In 2011 he joined Celebrity Rehab with Dr. Drew for a steroid addiction.
Since then he has been the center of a swirling storm of controversy due to a public sex tape debacle, involved in VH1's Confessions of a Teen Idol. He currently does public endorsements for Ed Hardy Clothing
3. Steven Anthony Lawrence, 'Even Stevens' (2001-2003)
---

Lawrence, who played Beans on the Disney Channel show Even Stevens, has since been seen with roles in Kicking & Screaming and an episode of Weeds. He also can be seen in commercials for mega brands Old Spice ad T-Mobile.
2. Brian Bonsall, 'Family Ties' (1986-1989)
---

Brian Bonsall of Family Ties fame left the TV industry behind in 1995. He gave up his acting career for a spot in a punk rock band though his story doesn't have a happy ending. He was taken in to police custody shortly after beginning his musical career and charged with a DUI, assault, and possession of marijuana.
Most recently he is serving a lengthy two years' probation in relation to a third-degree assault charge.
1. Andrea Barber, 'Full House' (1987-1995)
---

Barber, who played Kimmy Gibbler on Full House, was already an acting pro from her four year stint on Days of Our Lives. Instead of pursuing a career in action however, she followed the show's end with an investment in herself. She pursued higher education and graduated from Whittier College with a degree in English.
Source: hollywood.com