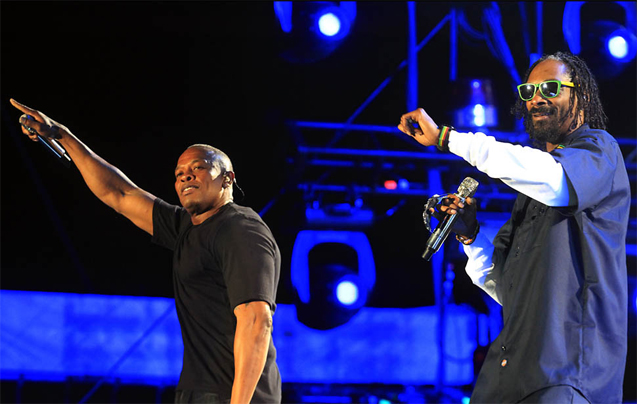 Dr Dre and snoop Dog Performing Coachella Music and Arts Festival
---
Dr. Dre, the iconic rap artist responsible for quintessential American hip-hop acts such as NWA, Snoop Dogg, and Eminem, released his long-awaited latest a day earlier than expected. Utilizing Apple Music's streaming service, Dr. Dre's "Compton", which serves as the musical soundtrack to the upcoming bio-pic, "Straight Outta Compton" depicting the rise and fall of Dre's first claim to fame NWA, marks only the third official solo album from the otherwise prolific rapper, producer and entrepreneur from Los Angeles.
According to the New York Times, Dr. Dre, 50, has waited 16 years to release his first album since 1999's "2001", which included such hits as "Still D.R.E.", "The Next Episode," and "Forgot about Dre".
Rolling Stone reports that Dr. Dre will be donating "all of his artist royalties" to help build a performing arts and entertainment center in Compton.
"Straight Outta Compton" the movie portraying the lives of NWA members Dr. Dre, Eazy E, DJ Yella, MC Ren and Ice Cube, hits theaters August 14th. It currently maintains a 91% rating on Rotten Tomatoes.
With early positive reviews surrounding the film and guest appearances from Kendrick Lamar, Snoop Dogg, Ice Cube, and Eminem, "Compton" will surely be a record people talk about.