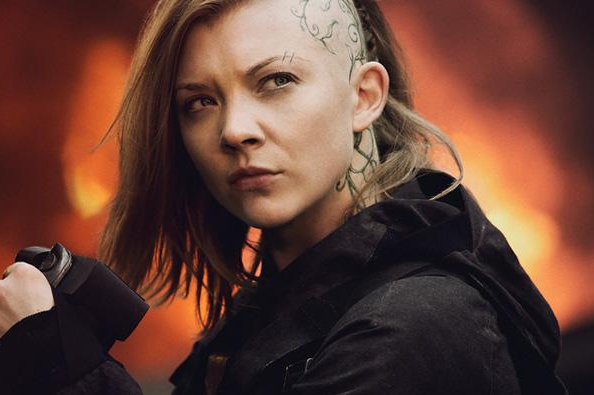 "The long anticipated setup movie." "Disappointing." "Slow, boring, with poor acting." "Dull and uneventful." "A two hour preview of what to expect in the final movie." These are only a few of the negative Mockingjay reviews I've read on IMDB. And after recently watching the movie myself, I couldn't disagree more.
Mockingjay- Part 1 closely follows the book, as did the first two installments of the franchise. A few changes were made, but they were minor. It's a lengthy flick, yes, but certainly not boring or uneventful. And while the movie does come up short on the action front, the actors deliver solid performances and the audience is treated to some smart political subtext and a superior portrayal of the negative effects war and rebellion have on regular folk. It's heartbreaking and even excruciating to watch at times; which makes it grim, dark, and overall a big downer. But oh so wonderful!
The plot picks up right after the events in Catching Fire. District 12 was destroyed, so Katniss is now in District 13, with her mom and sister, Gale, Finnick, and Beetee. She spends her time hiding in closets, having nightmares, and blaming herself and everyone around for leaving Peeta behind. However, under the leadership of President Coin and at the advice of Plutarch and the others, miss Everdeen becomes the "Mockingjay," a symbol of rebellion for the people of Panem.
If you read the books, you know that The Hunger Games isn't simply a tale of teens fighting to death for the Capitol's delight. It's about war, about the awful psychological effects it has on people, about the scars it leaves, scars that might never fully heal. But it's also about hope, survival, strength, and sacrifice. On that front, Mockingjay – Part 1 does a great job at conveying the characters' internal struggles. Katniss suffers from severe PTSD and her mental state swings between anger and anguish. Gale is furious and often feels powerless in front of the Capitol's forces. Peeta… we don't get to see much of him, and I don't want to give anything away, but he's deeply tormented. Even so, he's still doing the best he can to survive.
And then there are the people. The ones who were starved, blown up, robbed, abused by the Peacekeepers and the Capitol. Who President Snow is trying to scare back into submission, but isn't quite successful. Because they now know that fighting is possible, and that a victory would bring them the peace and harmony they so desperately crave. And also because they saw their fearless Mockingjay defy the Capitol (twice now!) and live to see another day. The rebels of Panem are responsible for some of the movie's most powerful and poignant scenes. Their braveness and sacrifice are inspirational and often tough to witness without tearing up a bit.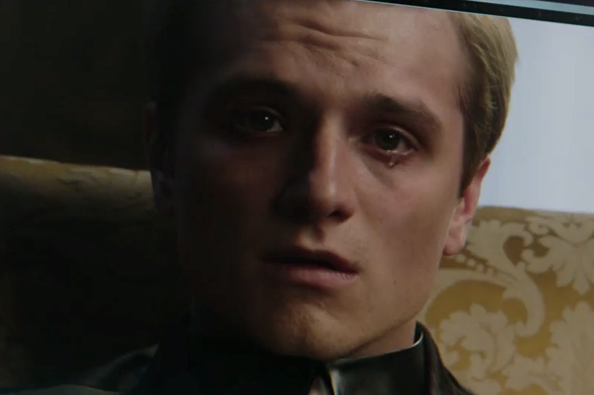 Finally, a few words about the propaganda. While the scenes with the rebels give us a glimpse of how rebellion looks like in the Capitol, the emphasis is mostly on how the leaders are trying to manipulate the population, each in their own way. Snow uses fear, threatening to kill everyone who associates with the Mockingjay symbol. He also uses propaganda videos urging rebels to give up the fight and restore "peace" throughout Panem. President Coin, on the other hand, along with Plutarch and a team of talented filmmakers from the Capitol, uses Katniss to convince the rebels that their fight is justified, and that they should keep at it until the Capitol is destroyed. This propaganda war offers interesting scope for political commentary and creates tension between the two leaders, which is pretty impressive due to the fact that they don't share any scenes. And yet, you can almost feel the deep hatred they nurture towards each other.
So no, Mockingjay – Part 1 isn't a setup movie. It does slowly builds up to the last installment of the franchise, but it also allows viewers to learn more about rebellion, its puppet masters, and its devastating ramifications. You we also get to know Katniss better and get a deeper glimpse at her dark side. She's starting to understand that she's just a figure head. She misses Peeta. She's traumatized and messed us. She's feisty but, at the end of the day, she's just a teenager. Give her some leeway to recover after everything she's been through.
If the entire action of the last Hunger Games book would have been condensed into one movie, a lot of things would have been left out or superficially handled. And that would have been a shame.
To sum up: While the movie does have a few well-crafted bombing raids and a suspenseful rescue mission, those of you who want to see it solely for the action-packed scenes will be disappointed. If you're looking for more substance and character development though, you'll likely be pleased. It's also worth mentioning that you won't understand much if you haven't seen the previous two installments, so make sure to catch up before heading to the theatre.
Cast: Jennifer Lawrence , Josh Hutcherson , Liam Hemsworth , Woody Harrelson , Elizabeth Banks , Julianne Moore , Philip Seymour Hoffman , Jeffrey Wright
Director: Francis Lawrence
Genres: Science fiction, Adventure, Action
Distributor: Lionsgate Films