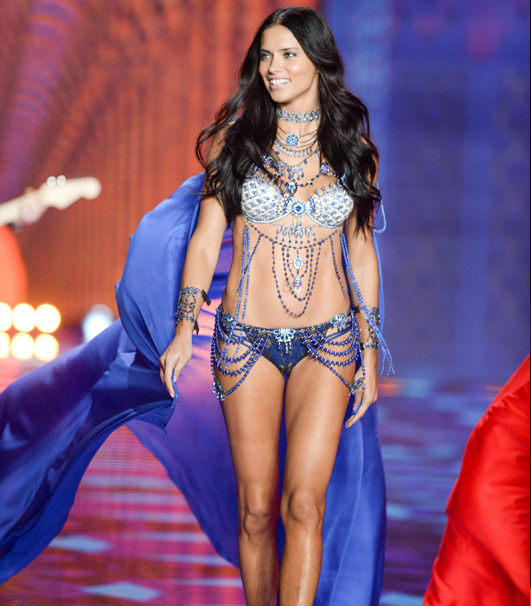 If there is one group of women on the planet who know how to keep their bodies in the perfect shape no matter what life throws their way, it's the Victoria's Secret Angels. These talented supermodels sculpt their toned bodies through strict exercise plans, and lifestyles that include the healthiest eating plans on the planet. Adriana Lima, the Brazilian Angel with two children (aged six and four), achieves her own distinctively toned, yet feminine body through a variety of fun exercises and a stripped-down diet.
For fuel, Lima focuses on lean protein, vegetables, fruits, and a little dairy. She's said in interviews that two months before a Victoria's Secret runway show, she'll drop all carbs from her diet and follow a plan that slowly reduces the amount of calories she eats throughout the day. A large breakfast, followed by smaller portions at lunch, and a simple salad at dinner, keep her metabolism running at optimal levels. During this time, she eats only green vegetables, eliminating even the carbs that yellow, orange, purple, and red vegetables offer.
She also avoids sodium, especially since having her two children; after motherhood, women's bodies can hang on to water more easily, so it's important to keep salt intake to a minimum. When she isn't prepping for a show, she follows a mostly Paleo diet. Because she's committed to both her health and her career, Lima follows this plan even when she eats as restaurants, often ordering specially prepared meals that aren't on the menu. She's learned that most chefs are happy to use their skills to whip up something tasty and satisfying for someone on a strict diet.
As for exercise? Lima's passion is boxing, which she does under the tutelage of trainer Michael Olajide, Jr. When preparing for a show, Lima trains twice a day, each session lasting two to three hours. She loves shadow boxing, especially if it requires a lot of detailed footwork. One of the great things about boxing is that it naturally sculpts a toned core, thanks to perfecting technical moves like hooks, uppercuts, and jabs. And the best thing about such a rigorous routine at home is that Lima can maintain her curves with just a quick ten-minute workout while on the road.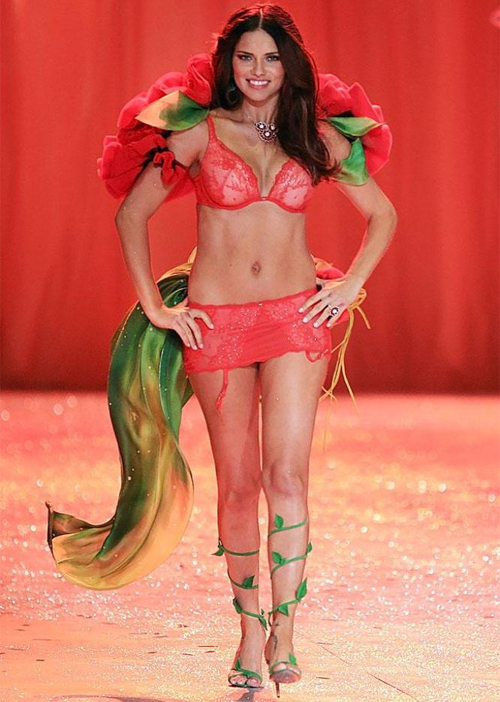 When she's travelling, or when she's simply in maintenance mode, Lima relies on jump rope exercises. She's told reporters that for her, ten minutes of intense jump rope is the same as 45 minutes of typical cardio exercise. Her trainer, Olajide, Jr., calls the jump rope the "rainmaker" because the intensity of the workout makes you sweat! Jump ropes also fit into baggage very easily, and you can use them just about anywhere. Lima practices jump rope "tricks" like crossovers, double-unders, and side-stepping moves, to make it more entertaining.
The key for models like Adriana Lima is to make exercise fun. Instead of doing yoga or other popular exercises like that, Lima found her passion in boxing, and that makes it less of a chore to hit the gym twice a day.