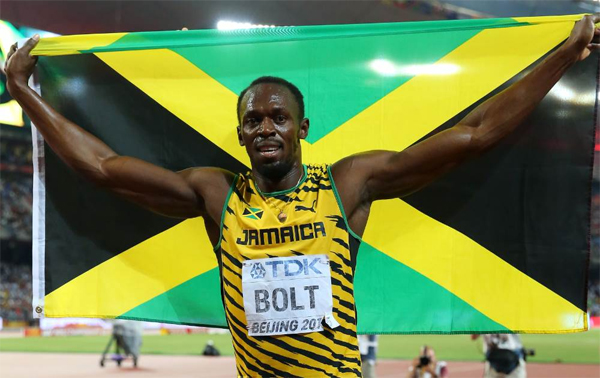 The World's Fastest Man, Usain Bolt of Jamaica, is gearing up to break more world records in Rio during the Olympic summer games. Attempting to be the first athlete to take the "triple triple" of gold medals, he has a huge feat ahead of him. Bolt is hoping to be the first to win the 100- and 200- meter as well as the 4×100-meter relay title at three consecutive Olympic games.
Despite suffering a torn hamstring during Jamaica's Olympic trials, Bolt is coming into Rio confident and ready to race saying he feels he's in better shape than he was in Beijing for last year's world championship where he ran 9.79 in the 100m. He currently holds the world record for the 100m at 9.58.
Not one to rest on his laurels, Usain has his sights for more record breaking speeds with the 200m, this time, saying, ""I think the 100, for me, is always going to be harder because it's so technical," Bolt explained. "It's all about me getting a good start and executing right and stuff like that. But I think always, in 200, there's room for running faster. So I really want to try to go after the 200-meter world record this year."
He's heading into the Olympics ranked number 4 for the 100m and 5 in the 200m and is looking to prove himself after getting what some have referred to as a "medical pass" for the Games. Most notably, USA's Justin Gatlin jumped on the opportunity to question Bolt's readiness for the race. Vowing to use such comments as fuel for his fire, Bolt raced at London's Anniversary Games and, while it wasn't his fastest time, he claims to feel no ill-effects from his injury earlier this year and says he's much more comfortable now after working out some "rust."
Beyond being motivated by competitors, Bolt also thinks the world, and more specifically, his sport, needs him to bring home the gold after the negativity and Russian doping scandals have threatened to overshadow Rio. Wanting to deliver good news for track and field, as well as for Jamaica, he's working hard and staying focused.
While Bolt is still at the top of his game, he has announced that he plans to retire from his sport after the 2017 world championship, meaning Rio will likely be his last Olympic run. This decision was reached after Bolt recognized his body is aging and injuries take longer to recover from. Finding the motivation to train at a high enough level to maintain his speed also plays a major factor for him.
At 29 years old, the world's fastest man is working his hardest to make sure that he goes out at his typical lightning speed while stealing three gold medals. In a recent interview, Bolt said, "My biggest dream at the Olympics is to win three gold medals again. That's my focus, that's what I want, and that's what I'm aiming for because that's my goal and that's my dream."
The big question is, if Bolt win all three of his events to set this unbelievable record in the history of athletic, will he be considered a greater athlete than Michael Phelps?
The dates for the finals for each even that Bolt will perform in is as follows:
Track & field · Men's 4x100m relay · Thu, Aug 18
Track & field · Men's 200m · Tue, Aug 16
Track & field · Men's 100m · Sat, Aug 13
This is gearing up to be the most watched track and field events of all times.