Birth Name:
Cassius Marcellus Clay, Jr.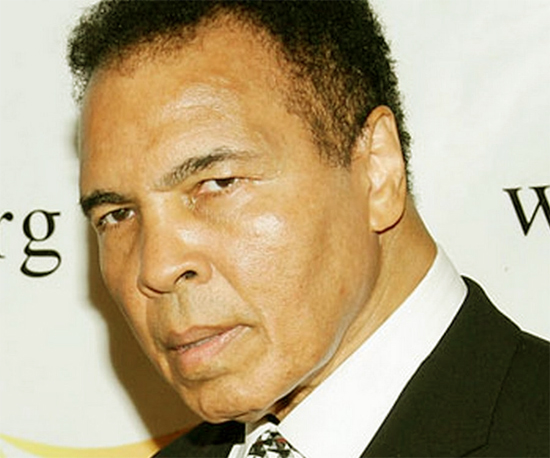 Muhammad Ali Height
Height: 6 ft 3 in (1.91 m)
Muhammad Ali Weight
Weight 236 lbs.
Muhammad Ali Body Measurements
Ali's measurements is estimated at:
Chest – 46 in or 117 cm.
Arms / Biceps – 17 in or 43 cm.
Waist – 36 in or 91.5 cm.
Shoe size: 12 US.
Muhammad Ali Biography, Facts, Family
Muhammad Ali's name at birth was Cassius Marcellus Clay, Jr. and he decided to change it after he converted to Islam Religion. He was born on January 17, 1942 in Louisville, Kentucky and died on June 3, 2016 in Scottsdale, Arizona. He was 74 years old when he died. Ali was the biggest personality in a room no matter who else was there. Many perceive him to be the greatest boxer that ever lived, while others were drawn to the humanitarian aspects of his life. Ali's greatness were etched in stone and symbolized by monuments like the Muhammad Ali Center and Muhammad Ali Mural, Los Angeles, CA.
One of the most significant period in Ali's life was when he opposed the Vietnam War and Decided not join the US army. He paid the hefty price of facing a five years prison term, fined $10,000 and banned from boxing for three years. He knew the penalty, but decided to stick with his belief and this one act is the major reason why he is such a hero to so many people. He was inducted into the International Boxing Hall of Fame and given the Presidential Citizens Medal.
Nickname(s):
The Greatest
The People's Champion
The Louisville Lip
Net Worth:
Ali was worth about $50 million at June 3, 2016.
Age – Date of Birth:
January 17, 1942.
Died:
June 3, 2016 (aged 74)
Scottsdale, Arizona, United States
Birth Sign / Zodiac:
Capricorn
Place of Birth:
Louisville, Kentucky, United States.
Nationality:
American
Educational Background:
Central High School
Family / Parents:
Mother name – Odessa Grady Clay
Father name – Cassius Marcellus Clay Sr.
Siblings – Rahman Ali
Children:
Ali has nine children and they are Laila Ali, Rasheda Ali, Hana Ali, Asaad Amin, Maryum Ali, Jamillah Ali, Khaliah Ali, Muhammad Ali Jr. and Miya Ali.
Job – Occupation:
Professional Boxer.
Boxing Record:
He had a total of 61 fights.
Wins: 56
Wins by KO: 37
Losses: 5
Draws: 0
Body:
Athletic
Girlfriend / Spouse / Wives:
Muhammad Ali has been married four time and he got divorced three times. Ali's first wife was a cocktail waitress and her name is Sonji Roi. They got married August 14, 1964 and end up getting divorced on 10 January 1966.
On August 17, 1967, Ali got married to Belinda Boyd. They were married for for about nine years before getting a divorce on 29 December 1976. The marriage produced four children, Muhammad Ali Jr., Maryum Ali, Jamillah Ali and Rasheda Ali. Belinda Boyd changed her name to Khalilah Ali after they got married.
On June 19, 1977 Ali got married to his third wife, Verónica Porche Ali, who was an actress. The marriage lasted for 9 years until they got divorced in July 1986. Ali and Porche had two daughters, Laila Ali and Hana Yasmeen Ali.
Ali's fourth wife is Yolonda Williams (19 November 1986 – 3 June 2016) and they stayed married until Ali died on June 3rd. 2016. She was also an actress and they had only one child who was adopted, Asaad Amin.
It was rumored that Linda Lewis and Muhammad Ali hooked up in 1979.
Ethnicity:
Black American
Color of Hair:
Black
Colors of Eyes:
Brown
Physical Distinctive Features:
His reach was 78 in (198 cm) and he saw himself as a very handsome man.
Style, makeup, Dress and hair style:
Muhammad loved to dress up formally in a nice shirt, jacket and tie.
Brand Ambassador for:
Under Armour
Religious Belief:
Sunni Islam
Well Known For:
His fights against opponents like George Foreman and Joe Frazier.
First TV Show or Movie:
The Greatest – 1977
The Super Fight – 1970
Freedom Road – 1979
Ali, with Will Smith – 2001
List of Facts / Trivia:
There were a number of movies made that was based on his life, like
The following quotes by Muhammad Ali are well known by people of different generations:
Float like a butterfly, sting like a bee.
He who is not courageous enough to take risks will accomplish nothing in life.
The man who views the world at 50 the same as he did at 20 has wasted 30 years of his life.