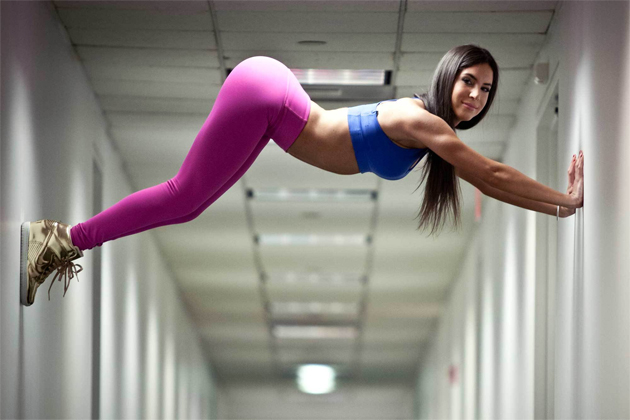 Jen Selter, social media fitness model made a name for herself by posting her pictures online. She now has close to 5 million likes on Facebook, 13 K tweets on twitter and 6.6 Million followers on Instagram.
We live in a tough, tough world. Getting recognized for your hard work and talent can take years of determination, buckets of luck, and hundreds of hours of networking. It can be downright frustrating to see someone become famous overnight, especially someone with no apparent talent or special skills whatsoever. We see plenty of faces plastered all over the news and on the cover of tabloids and we can't even remember what they do for a living or why they're in the spotlight. "Celebrity" has become such a meaningless and general term that it actually feels like anyone could end up on the front page of a newspaper without even making that much as an effort.
The Internet is an incredible tool for anyone looking to gain a solid following and maybe even get recognized on the street someday. If you're tired of waiting for a miracle and serious about making your own luck, there are a few shortcuts you can take on the road to stardom. Pay attention though; they're not all foolproof and most of them will definitely put a dent on your reputation, but hey – you can't enjoy the reward without taking a few risks down the road. Here are ten quick tips on how become famous, ranked from hardest to easiest.
Invent something
Sure, inventing something seems like a lot of hassle, but just picture all the glory! You might think that most inventions have already been made; however, that's not necessarily the case. What about the selfie stick? It was invented a while back (twice, actually), but only became popular in recent years. Do your best to look around, see what problems people are dealing with, and come up with effective solutions. Plus, with sites like Kickstarter and Indiegogo now up and running, getting people interested in your product is easier than ever.
Win a world record
Some world records may seem hard to achieve, sure, but some of the most bizarre ones don't even require that much effort. Growing the world's longest nails, beard, or hair? It surely can be done. Plus, there are other weird records you might consider going for – like maybe most watermelons chopped on the stomach in one minute, most toilet seats broken by the head, or fastest half-marathon pushing a pram. You never know which outlandish activity you might excel at.
Donate you time
Here's something truly out of the box: why not become a charitable person? Donating your time will not only help others and make you feel warm and fuzzy inside, it can also attract the attention of the local community. That might translate into appearances at a local TV network, articles about you in the local paper, maybe even a badge or city key from the mayor. If you manage to save someone's life in the process, you might even become a national hero. And that's the good kind of fame.  Make your move and start the journey on becoming a celebrity.
Do something crazy
I've read plenty of articles about people who decided to leave their corporate life behind and travel the world. That could be you, and it's not even that crazy of an idea. It actually sounds fun. Other crazy things that can win you some attention include offering free hugs to random people on the street and protesting something in a unique way. Time for brainstorming.
Start a blog
If you're truly passionate about something, why not share your expertise with the world via blogging? There may be millions of blogs out there, but if you pick your niche carefully and have some insights others can find useful you actually have a shot at growing a big following. If you then monetize the blog, you can earn some cash as well. For more tips on the subjects, take a look here.
Become a social media celebrity
Blogging seems too hard? Move your attention to social networks. Share zingers via Twitter, recipes via Pinterest, beautiful sunset pics via Instagram. You only need one great post to go viral and you're all set to begin your new life as a cyber-celebrity. Less paparazzi, more online recognition. There are thousands of articles and books out there about how to win at social media, but here are some resources to get you started.
Post crazy videos/Vines
Do you have a home video that went terribly wrong? An awesome idea for a short movie? A craving to talk in front of the camera and share your inner musings with the world? Then video is for you. YouTube clips, Vines, Instagram videos – all of them can help you achieve the level of fame you crave so much. Just look at Rebecca Black. If she can become an Internet sensation, everybody can.
Get on a reality show
Reality TV is all the rave nowadays. You can try your luck on The Bachelor, earn back your health on The Biggest Loser, audition for The Voice. Whatever special talent you may or may not possess, there's surely a reality show that covers it.
Get a blossoming social life
We're not saying that being a socialite isn't hard work, but it doesn't seem that difficult overall. All you need is some serious cash, some great outfits, and the unique ability to develop relationships with people who might put you on the map. More on the subject here.
Get a funky pet
If all else fails, getting yourself a marvelous looking pet will help you become famous by association. Remember Grumpy Cat? She appeared on various talk shows, was featured on the front page of major newspapers, and even got her own movie. She's a true Internet celebrity, and there's no reason why your pet can't proudly follow in her footsteps.
There you have it – the comprehensive guide to becoming famous, preferably without breaking that much of a sweat. If none of the tips above seem appealing to you, we have some bad news: you need to continue to work hard and apply yourself if you dream of someday making it big. There's no other way around it. Good luck!