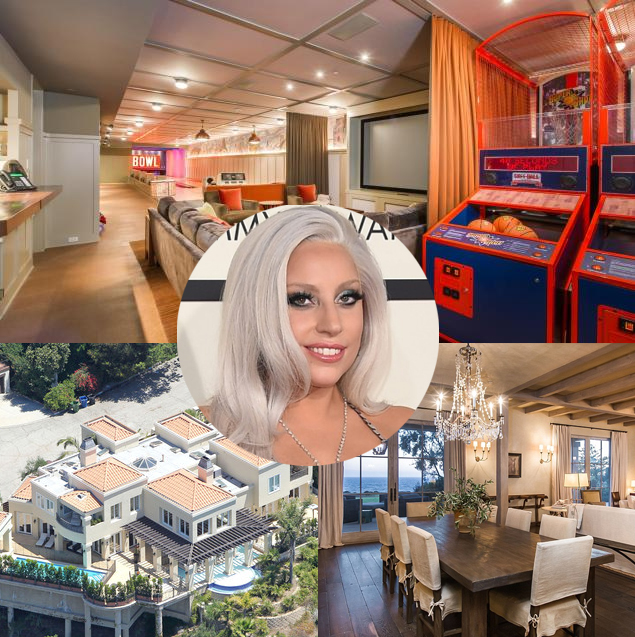 When I was a kid I remember going to my uncle's house. He had an old pool table in his basement and I would play pool by myself for hours. I loved that pool table and I begged my parents to get me one for our basement.
It wasn't in the budget.
For me, 'making it big' would have been buying a pool table and installing it in our basement. I had no idea that people had a bar in their closet (see number 1).
10. Lady Gaga's Bowling Alley
---

Bowling alleys are fun right? You go and get the shoes that everyone else has worn, sit on the hard plastic chairs that everyone else has sat on, and touch the balls that everyone else has touched. You can eat worn out and limp fries with lukewarm cheese sauce on them—it's fun for the whole family.
Not the case for superstar Lady Gaga. She has her own private bowling alley complete with all the amenities. It's just one of the perks of her $23 million dollar Malibu mansion.
Bowling can get old though. If Gaga gets tired of bowling granny style then she can head over to the horse stables (she has those too).
9. The West-Kardashian Vineyard
---

Kim and Kanye made the modest move into a $20 million Hidden Hills estate complete with it's own sprawling vineyard. There's no reports of commercially produced wine to come out of it but I wouldn't be surprised if it graces their dinner table.
Can you picture Kim and Kanye squishing grapes with their bare feet?
8. Michael Jordan's Basketball Court
---

Jordan's Highland Park estate includes a full-sized basketball court for some one-on-one or some HORSE. If you're looking to include his former mansion to your collection you're in luck: it's for sale. All you need is $16 million to get the most expensive house in the state of Illinois.
7. Manhattan Putting Green
---

This one isn't Arnold Palmer. Surprise! It belongs to Jennifer Lopez. Her new $22 million penthouse NoMad comes with 3,000 square feet of roof space. That's like having the space of ten sandwich shops on your roof!
So she decided to dream big. A full puttering green complete with carefully manicured grass is surrounded by tasteful seating and a tree or two for privacy.
6. Lebron's Home Theater
---

Lebron James' jet setting lifestyle has forced him to abandon his $17 million Miami mansion, the highlight of which is an incredibly posh home theater screening room. Luxurious leather theater seating complete with cup holders adorn his custom theater that can comfortably seat eight. Sound absorbing panels on the walls and ceiling keep the action sequences contained and the authentic theater floor pitch completes the experience.
Don't forget the dock that can accommodate two yachts and his world class wine cellar.
5. Backyard Waterpark
---
 
Celine Dion's Jupiter Island megamansion has three massive pools equipped to beat the Florida heat. If that's not enough hydration for you the grounds also include a water park complete with a loop-de-loop waterslide. All this and more could be yours for a mere $63 million.
4. Private Runway
---

And I don't mean the kind models walk on. John Travolta's Ocala, Florida getaway has a private runway that is over 7,500 feet long that can accommodate a private Boeing (staff included of course) right to his door.
It's important to have a landing strip on your vacation home in case you want to drop in unexpectedly.
3. Extreme Opulence
---

Donald Trump's MarA-Lago Club is beyond extravagant. The focal point is a 29 foot marble dining table that can seat the occupants and guests of his 126 rooms that are on the premises. For entertaining purposes the ballroom is a whipping 20,000 square feet.
While Mar-A-Lago is outfitted with 2 guest houses it is also utility minded with three bomb shelters. That's one for Trump and one for each of his guests. While that is very considerate, need I remind you, Mr. Trump, that you can't take it with you?
2. Baseball Diamond
---

While Jordan's indoor basketball court probably requires more care, Jerry Seinfeld's East Hampton Tudor style vacation home has a full-size baseball diamond. One-on-one basketball works, one-on-one baseball does not. Jerry is also a car guy; the 22 car garage isn't for his beer league though. He uses it to store his collection of vintage and rare cars.
1. Closet Space
---

Mariah Carey's 12,000 square foot Manhattan triplex has a closet that can hold over 1,000 pairs of shoes, all on display and ready to grab on the go. When asked about her shoe collection she explained that there were a lot in storage.
Kimora Lee Simmons of Baby Phat took a similar route. Unhappy with her closet space she simply renovated two bedrooms and turned them into a single closet. If there weren't over 500 pairs of jeans in there you wouldn't know it was a closet; the storage space is outfitted with multiple flat screen TVs and a bar.