Stephen Curry Ejected In Game 6, Wife The Game Was Rigged For Money, What to Expect In Game 7
Stephen Curry totally lost his cool in game 6 of the NBA finals between the Cleveland Cavaliers vs Golden State Warriors. For curry this was the first time he has been ejected in a NBA game. You could see Curry's frustration building up throughout the game as he received foul after foul. It was no surprise that he expressed some sort of emotion in what many deemed to be the biggest game in Cleveland Cavaliers history. When Curry received the sixth foul he expressed his anger by throwing his mouth piece and it hit a Cavaliers fan! That was it, he was gone!
First time Curry has been ejected in his career. Great act to apologize to the fan after in the heat of the moment.pic.twitter.com/gDgLTPogwG

— BallersHype (@BallersHype) June 17, 2016
Curry quickly apologized to the fan who got hit by the mouth piece, smiled and calmly left the court and walk back to the locker room. Ayesha Curry on the other hand took to Twitter to rant her frustration. She has never been one to hold back her thoughts, but did she go a little too far this time by accusing the NBA organization and referees of a rigged game? She said " I've lost all respect sorry this is absolutely rigged for money …. Or ratings in not sure which. I won't be silent. Just saw it live sry."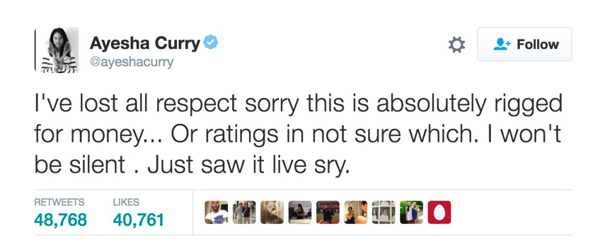 What to Expect In Game 7 Of The Cleveland Cavaliers vs Golden State Warriors:
Will King James take Curry's crown in game 7 of the NBA final? The Cavaliers put on a stunning performance to force what should go down as one of the greatest Game 7 NBA finals. The Cavs smell blood and they are hoping their momentum from their last two wins will help them take the title back back home to Cleveland. If anyone had any doubt as to whether or not they had it in them to win the championship, that should have been laid to rest after seeing the last two performances. The question is, will they be able to win one more to make it three in a row. If they do, it would be history made because no team has ever come back from a deficit of being down 3 to 1 and come back to win the championship.
As for the Golden State Warriors they will be at home and they have the loudest crowd in the NBA right now. At this point does home court even matters? I don't think so! Winner takes all, who has time to be thinking of where the match is being played? The warriors will have to get back their mojo and start playing like the team we saw in the regular season.
My humble opinion is, if both teams play at their best, Cleveland wins. Why? Two words. LeBron James. He is the greatest player in the league right now and at his best, who is going to stop him.
What do you think?