Birth Name:
Sasha Embeth Pieterse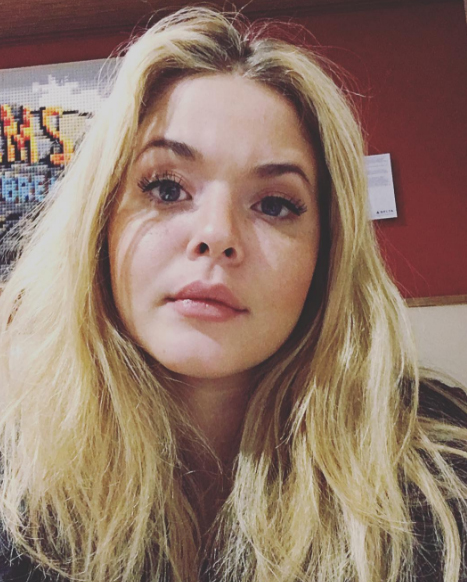 Height
Sasha Pieterse height is 5′ 6″ (1.68 m).
Weight
She weighs about 135 lbs.
Body Measurements
36-28-35 in or 91.5-71-89 cm
Dress size: 10 (US) or 40 (EU)
Bra size: 34B
Shoe size: 8 (US)
Biography, Facts, Family
The hit television series Pretty Little Liars has millions of fans, and all of them will know the name Sasha Pieterse. As the youngest person on the show, she has enjoyed a remarkably successful career to date. Born on February 17, 1996, in Johannesburg, South Africa, her family relocated to the U.S. only five years later.
As the daughter of professional acrobats, it is not a surprise that Sasha would head into the entertainment industry, and yet her first work was a model. She did appear on TV at the age of six, and continued to make appearances over the years. By 2007, she had landed some film roles and n 2009 was cast in Pretty Little Liars.
For someone so young, her list of TV and movie appearances is substantial, and then there is the music. She has already released several singles, each of which has been successful, and her style is southern rock and country. Not only does she act and sing, but she is also a successful designer. She created a collection of jewelry called Rigid Creations at the age of 14, and it is still in production!
She has also nabbed several major awards for her work, including a Teen Choice Awards and a Young Artist Award.
Personal Life
Perhaps so much success is not a surprise when you consider that she was homeschooled and smart enough to graduate by the age of 14!
In 2015, she became engaged to her long-time romantic partner, Hudson Sheaffer, but the two have yet to announce their wedding plans. There is a seven-year age difference.
Sasha credits her mother with a large share of her success, noting that it was her mother who has encouraged her in all ways, and who even inspired her sense of play and acting by making elaborate Halloween costumes from her earliest years.
In a recent season of Pretty Little Liars, the actress began to receive critical and cruel messages on social media and in the press about some slight weight gain. She went public with the fact that she is struggling with a severe hormonal imbalance and shared a very lengthy Instagram post that thanked her fans for supporting her and scolded those who make any sort of "flaw" a point of criticism and even contempt. With so many great achievements, she should not let a single criticism affect her mood!
Nicknames:
Sasha, Squasha
Net Worth:
$2 million
Age – Date of Birth:
February 17, 1996
Birth Sign / Zodiac:
Aquarius
Place of Birth:
Johannesburg, South Africa
Nationality:
South African
Educational Background:
High School: She was home schooled
University / College:
Family / Parents:
Mother name –
Father name –
Job – Occupation:
South African-born American actress and singer-songwriter.
Friends and associates:
She is associated with Taylor Dooley, Taylor Lautner, Lucy Hale, Ashley Benson, Troian Bellisario, Shay Mitchell, Ian Harding, Tyler Blackburn, Keegan Allen and Janel Parrish.
Body:
Slim
Weight
Boyfriend / Spouse:
Sasha Pieterse and Hudson Sheaffer have been dating each other since 2014. They are now engaged.
Ethnicity:
White / Caucasian
Color of Hair:
Light brown
Colors of Eyes:
Blue
Physical Distinctive Features:
Style, makeup, Dress and hair style:
Sasha like to wear her hairstyle long and straight.
Plastic Surgery:
N/A
List of Facts / Trivia:
1. Her manager is the mother of actress Blake Lively.
2. She is a dedicated Green Bay Packers fan.
3. Back in 2004, she was considered for an Emmy for her role on one episode of House, in which she played a cancer patient suffering hallucinations.
4. She loves to bake and is noted for her banana cake!
5. Her middle name is Embeth.
6. She is a huge animal lover and often shares photos of herself with her pets.
7. Her beauty "icon" is Jennifer Aniston.
8. She is constantly making friendship bracelets.
9. When she auditioned for Pretty Little Liars, it was for the role of Hanna.
10. Her film debut was in The Adventures of Sharkboy and Lavagirl in 3D.