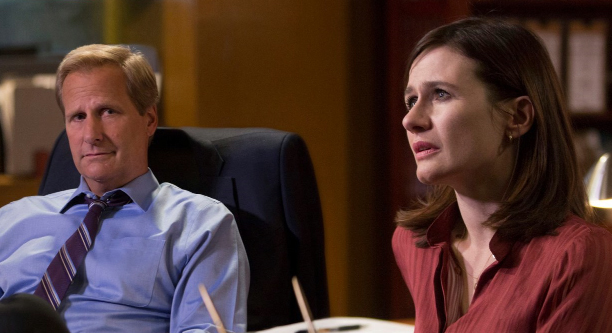 The Newsroom had its fair share of haters during its three season run. People who said Sorkin hates women. That he doesn't know how to write conflict. That it's not cool how his characters talk mostly in monologues. That he's insensitive. That he's repetitive and self-righteous. That his show is pompous and condescending.
Viewers and critics alike loved to hate-watch the drama, and they continually attacked its creator for the many issues listed above. He eventually extended an olive branch. Too many monologues? Let's make fun of that – and that was when Maggie Jordan, to justify the fact that she was giving a monologue about the overabundance of monologues, delivered the line "Everyone does where I work". Sorkin hates women? Let's talk a bit about the pay gap and gender equality in the workplace. He tried to accommodate the haters while staying true to his characters. But that's too little, too late, as hate-watchers are probably thinking. I, however, disagree. About everything.
I'm not defending The Newsroom – simply because I don't believe there's anything to defend. I love-watched it the entire time. I fell for the characters (even Maggie), their struggles, and their banter. I enjoyed every scene where the protagonists switched from teasing each other to emotional territory in a heartbeat. I liked that it made me think about issues I had only a vague idea about and pushed me to learn more. And what's truly amazing is that the show fueled hundreds of online discussions about the media, about important issues, about our behavior as consumers. It made us wonder how the media should truly function, how the news should ethically be covered, how much the content we obsess over affects what we are given.
The Newsroom had a perfect ensemble cast, brilliant acting, compelling writing, and engaging storylines. It was an inspiring show which I will miss intensely. But let's talk about about the finale, shall we?
What Kind of Day Has It Been allowed The Newsroom to go out on a high note. The flashback-heavy finale gave fans a glimpse at what happened before the pilot – how Mac got to accept the job at News Night, how Charlie orchestrated the whole thing because he had a dream he wanted to see come true, how Will was lost under the pressure of getting the audience to tune in. The flashbacks were framed by Charlie's funeral, which gave the entire episode a bittersweet feel, despite some truly laugh-out-funny bits (like the scene where Don and Sloan were blaming each other for Charlie's demise, for example).
The episode opens with Mac finding out that she's pregnant, in the middle of the funeral service. She shares the news with Will, who is overwhelmed by joy. Circle of life – that was a tad cliche, but ultimately nice touch. In flashbacks, we get to see how much of a jerk Will really was before he learned everybody's names. Charlie, fed up with the joke News Night has become to attract viewers, goes after Mac in Washington, where she finds her at a bowling alley. She's slightly drunk, mostly because she can't find a new workplace where she can fit in, partly because she's wearing sweatpants. He offers her the job at News Night. This discussion between the two journalists sharing their similar views on how a news show must look like was one of the highlights of the episode. We also learn via flashbacks that Charlie send Mac a copy of Don Quixote. Touching. Mac finally takes the job and convinces Jim to tag along.
Back in the present, the now pregnant EP of News Night is pulled by Leona into Pruit's limo for the ride to the cemetery. We find out that Pruit has a big PR crisis – there have been articles on income disparity between men and women at one of his companies and the press also found out he hired hookers for his birthday party. Oops! Mac is confused by why she's there, Leona offers to help Pruit boost his public image. Later on, she tells Pruit he needs to hire a news director who'll fight with him to ensure that they will end up with a quality show. And who better to promote than a woman? Long story short: that's how Mac steps into Charlie's footsteps and becomes the new news director of ACN.
Elsewhere, Sloan and Don are definitely one of my favorite couples on TV. Their chemistry is amazing. And now we even got confirmation that Sloan was into Don from the very beginning. They met when the financial reporter drilled the EP about a financial news story that was handled poorly. They had a heated argument, that was eventually resolved a few days later, when Don admitted the story wasn't right and told her he was replaced as EP from the 8 PM slot, moving to 10. She wanted to ask him out, but didn't pursue him because he was with Maggie. Aw!
Speaking of, Maggie has the chance to interview for a job in DC, one that Jim recommended her for. Because she's good, not because he doesn't want her in his immediate vicinity. When Mac is promoted, she also promotes Jim to EP (her old job). His first order of business: make Maggie a senior producer, so she can stay at News Night. Maggie really wants the field producer job though, so they're going to try long distance. And apparently it's going to work, because Jim loves Maggie. And most likely Maggie loves Jim as well.
Other thoughts:
+ We got a musical moment in a garage. It was kind of corny, but I loved it. Now I'm not going to be able to listen to That's How I Got to Memphis without thinking of The Newsroom.
+ Neal got back safely, and decided the whole website needs a reboot. Take that, Bree!
+ The moment when Charlie's wife hands Don's the tie – *tears*
+ Will speech was also pretty fitting. Charlie was great man indeed. It also highlights Will's evolution from a self-absorbed prick to a a news man who cares about his team and the quality of his show.
+ Loved how the episode ended, with everyone getting ready for a new edition of News Night.
+ Sloan, I'll miss you the most.
I want more. I want to see Mac yell at Pruit. I want to see Jim trying to do Mac's job. I want to see Maggie making it in DC. Unfortunately, it's a wrap. All that's left to say is thank you, Sorkin, you magnificient bastard!