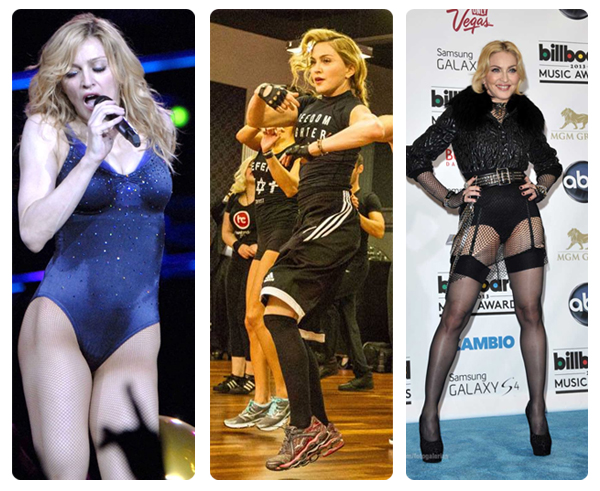 Nearing her 60th birthday, Madonna's body looks better than celebrities who are barely one-third her age, and the Queen of Pop doesn't show any signs of slowing down soon. While maintaining a body like Madonna's would be difficult at any age, keeping her toned and healthy look is even more impressive at her age. Not only that, but with three kids, tons of charity work, and a busy career, it hardly seems like Madonna has the time to keep herself in great shape. So what is Madonna's secret?
Madonna Workout
Rather than sticking to any specific type of workouts, Madonna embraces as many types of exercise as she can. From yoga and Pilates, to karate, weightlifting, running, and swimming, Madonna has and will try it all. Several years ago, there was a rumor floating around that Madonna spent more than 45 minutes every day on her StairMaster, even using it while she took calls in her office.

These days, Madonna's dedication to a strict workout regime is mirrored in the fact that she built her own gym next to her home. She works out for at least three hours each day, six days a week, focusing on cardio and strength training, as well as yoga to keep her body limber.
Don't forget that athletic dancing routines are part of her job. When she's on tour, Madonna spends hours practicing and performing her dances, in addition to her already intense workout regimen. Madonna has also created and published workout DVDs, and she also has gyms across the globe, including major international cities like Moscow and Mexico City. In short, exercise is not something that Madonna fits into her life, but rather something that she has built her life around.
Madonna Diet Plan
While you may believe that so much exercise would be enough to maintain a gorgeous body, Madonna is just as strict about her diet plan as she is her activity. Since the 90s, she's been following a macrobiotic diet, based on holistic Japanese principles for good health. She avoids all processed foods, refined sugars, and anything else that could be considered unhealthy. Even on her birthday or at the holidays, Madonna won't be found eating cake or enjoying a soda.
Her macrobiotic eating plan is mostly vegan, and includes a ton of vegetables, fruits, and non-wheat whole grains. Madonna eats just two meals per day, and – while she does occasionally eat meat – dairy, eggs, all poultry, and wheat are not on her menu. A standard meal for Madonna would be brown rice and oats topped with berries, or a stir fry of quinoa, green beans, and grilled fish.
Many people who have tried Madonna's diet, published as a cookbook by her former private chef, Mayumi Nishimura, have said that it is one of the most difficult diet plans they have ever tried to stick to. When combined with her strict exercise routine and challenging performance schedule, Madonna's secret for staying so toned and healthy is clearly a hefty dose of self-discipline.
You may also like:
Jennifer Lawrence Workout, Diet Plan and Weight Loss
Kate Hudson Reveals Her Workout Routine and Diet Plan
Madonna is one of the founders of Hard Candy Fitness, a fitness chain with locations all over the world.