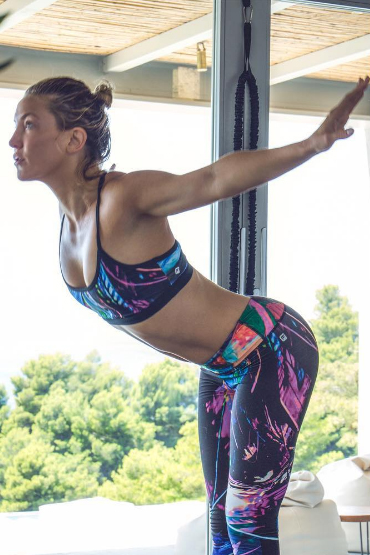 As an always-athletic person, who owns her own fitness label, and is known for her toned California Girl looks, it was surprising to many when Kate Hudson revealed that she struggled to lose weight after having her second son several years ago. In an interview where she discussed her struggle to drop the baby weight, Kate said that she had never before been faced with a situation where she couldn't break past a plateau.
These days, though, the actress and business woman is back in the lean, athletic body we remember from her heyday as a leading lady. If you're wondering how she finally broke past the plateau and lost the baby weight for good, here's what she's revealed about her lifestyle changes:
Kate Hudson Workout Routine
Kate is known for her deep love of Pilates, which is showcased heavily in her line of athletic wear. She does at least three hours of Pilates per week, in addition to regular cardio. Her Pilates workouts include exercises such as single leg pulls, elevated clams, 100s, roll-ups, and crisscross exercises. She also mixes in weight training with Heartcore workouts, a Pilates-inspired style of fitness that is very popular in London.
When she's not doing Pilates, Kate also does weight training and spinning. She loves SoulCycle, a high-intensity interval training version of the classic spinning workout. There's even weight training added in. But Kate says that her real secret to sticking to a workout routine is to not stress about it. As long as she gets some kind of movement in during the day – whether it's an hour-long session at the gym, or dancing around her house to work up a sweat – she's happy.
Kate Hudson Diet Plan
Kate sticks to a strict alkaline diet plan, calling it more science experiment than diet. An alkaline diet is mostly a vegetarian, no-gluten, no-sugar diet, but that doesn't mean that Kate eats boring meals every day. She freely admits to letting herself indulge when she's in restaurants, and she has a coffee habit that rivals the busiest college student.
A regular meal plan for Kate includes 60 to 80% of all her calories coming from tofu, nuts, fruits, and vegetables. Alkaline diets include eating a lot of spices as well, such as curry, ginger, and cinnamon. Kate also focuses on keeping her calories low, aiming for 1,500 or fewer calories each day. One of the things that she noted from before she was able to break past her plateau was just how much she was eating – sometimes as much as 3,000 calories per day.
Kate has also written a book called Pretty Happy that explains her own philosophy regarding exercise and diet. She is a big believer in Ayurveda and the principles that govern it, and uses those ideas to inform all of her activity and food choices. At the end of the day, Kate Hudson's diet and workout routine is similar to other celebrities, but includes activities that Kate loves to do, which helps her stay motivated.