Birth Name (real name):
Nik Keswani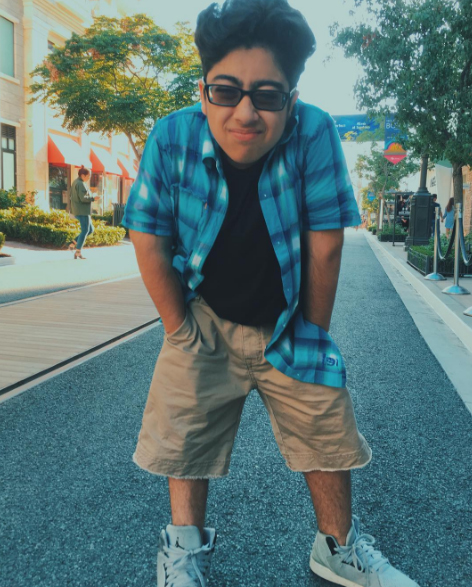 Height
3′ 11″
Weight
130 lbs
Body Measurements
Biography, Facts, Family
Nik Keswani or BigNik as he is popularly known to his fans, is a Vine star and actor. He was born with dwarfism, a medical condition that limits a person's height. BigNik is really short but that doesn't stop him from pursuing his dreams to act and entertain people. He is managed by his mother Vaishali and his father, Anil, is a medical doctor. He has two siblings, Sarina (his sister) and Devina, who is a transgender. This makes the Keswani's a very interesting family and they star in People.com's new web series called he "Keswanis: A Most Modern Family". They have also been written about by popular media houses such as MTV, People.com, Vogue Magazine and the LA Times. He was also featured in the web series "Strings" with Taylor Hay, Paul Stevans, Saige Ryan and Joey Luthman.
BigNik is of Indian decent and he was born on September 11, 1998 in Boca Raton, FL. He grew with his family in Naperville, Illinois before they all packed up and move to San Diego, California.
Nicknames: BigNik
Net Worth:
Nik earns more that $10,000 per month from sponsorship deals.
Age – Date of Birth:
September 11, 1998
Birth Sign / Zodiac:
Virgo
Place of Birth:
Boca Raton, FL
Nationality:
Indian American
Educational Background:
High School: Torrey Pines High School in San Diego, California.
University / College:
Family / Parents:
Mother name – Vaishali Keswani
Father name – Anil Keswani
Job – Occupation:
Vine star, Actor
Friends and Associates:
He is associated with Jacob Sartorius, AlliCattt, kingbach, Gabe Erwin, David Dobrik, Juanpa Zurita and Elizabeth Koshy.
Body:
He is short
Dating History Girlfriend / Spouse:
He is single
Ethnicity:
Indian
Color of Hair:
Black
Colors of Eyes:
Brown
Physical Distinctive Features:
He is short with because of dwarfism birth defect and he has also lost the sight of one eye.
Shoe Size: N/A
Style, makeup, Dress and hair style:
Modern
First TV Show or Movie:
"Keswanis: A Most Modern Family"
Favorite Things:
N/A
List of Facts / Trivia:
1. BigNik popularity is growing but he has certainly had his fair share of struggles. With more that 30 life threatening surgeries already, Nik tries to make himself and others happy through his Vine videos.
2. He has 2.9 million followers on Vine as of August 2016. Vine served as an outlet from boredom and being bound to a wheelchair.
3. Being a dwarf, Nik shows that one's height should limit you from following your dreams.
4. He lost the use of his left eye due to retinal detachment and he does wear glasses.
5. He started making Vine videos in 2013.
You may also like:
Marcus Dobre Height Weight Body Measurements
Cole LaBrant Height Weight Body Measurements
Instagram: @realbignik
Twitter: @RealBigNik