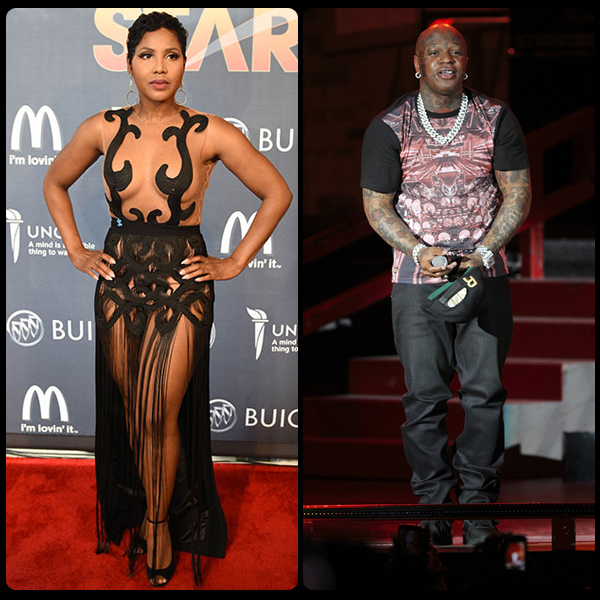 New couple alert! Toni Braxton and Birdman are officially together! The rumor mill has been stirring about the duo for months, but it wasn't until Toni accompanied Birdman to the 2016 BET Awards that their love was confirmed by Toni's rep. Here are seven things you should know about R&B's newest "it" couple.
1. They're old friends – While their relationship status may be new, the two have known each other since they collaborated on Toni's 1992 track, "Baby You Can Do It." After 14 years of friendship, Toni says about Birdman, "Ever since I've been knowing that man, he's been phenomenal," as reported by US Magazine.
2. He's got mama's approval – On The Rickey Smiley Morning Show, Evelyn Braxton said Birdman is a nice man, adding, "I don't care what others say about him. He is a nice man. He is full of respect." If mama's happy, everybody's happy! Right?
3. Wendy Williams is not a believer – The talk show host has decided that Toni and Birdman's PDA isn't convincing and is accusing the pair of having a "showmance" for ratings. Apparently, the opinion was formed after Williams saw a photo of the couple where Toni wasn't "cupping" Birdman's waist enough. Not exactly what we consider photographic evidence, but ok…
4. Birdman doesn't kiss and tell – According to People, when the rapper was asked about his relationship status with the bombshell Braxton, he said, "We're just chillin'." That's the way to play it cool, Birdman. But we're not buying it after seeing them together.
5. They made their debut at the BET Awards – Although the rumors have been flying since May, the couple hadn't officially come out as an item until they showed up together at the 2016 BET Awards show where Birdman was a presenter. The two couldn't keep their hands off on one another and were spotted getting pretty cozy all night long.
6. This isn't their first rodeo – Toni has been single in recent years, but before then she was married to Keri Lewis and the couple had two sons together. Unfortunately, they split in 2013 after 12 years of marriage. Birdman has been linked to several famous ladies, including Keyshia Cole, Kimora Lee Simmons, and Trina, according to US Magazine.
7. He's not afraid to show his affection – Birdman was recently reported to have given Toni a brand new Bentley costing $250,000! The lavish gift is a luxury SUV that hasn't even been released to the public yet. So, how do we get on Birdman's good side??
While Birdman and Toni Braxton are a new couple, we have a feeling they're going to get pretty serious pretty fast if the last few weeks are any indicator. Better get an eye-full of the unlikely couple while you can, because if they're like most Hollywood hook-ups these days, they may not burn brightly for long.