Birth Name:
Robin Packalen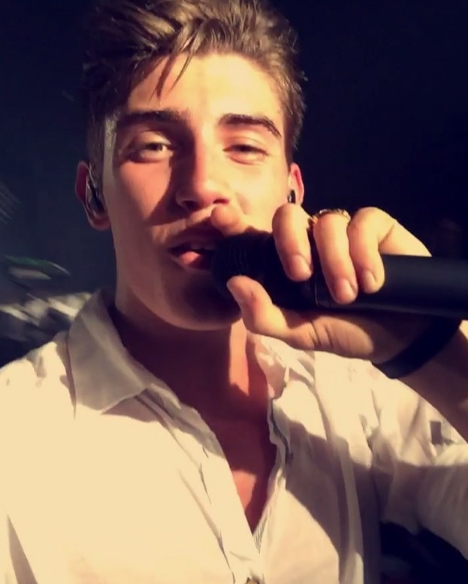 Height
Robin Packalen height is 5′ 10¾" (1.8 m).
Weight
Robin weighs abot 145 lbs.
Body Measurements
Biography, Facts, Family
Robin Packalen was born on the 24th of August 1998 in Finland. He is a rising pop star with with hit songs Miten Eskimot Suutelee? ft. SANNI and Milloin Nään Sut Uudestaan? ft. Kasmir. When he was just 10 years old Robin won the Finnish nationwide singing contest for youth, Staraskaba. His debut album Koodi, was released on 22 February 2012. He is said to be the Justin Bieber of Finland.
Nicknames:
Robin, Roppe and Robee.

Net Worth:
N/A
Age – Date of Birth:
August 24, 1998.
Birth Sign / Zodiac:
Virgo
Place of Birth:
Turku, Finland
Nationality:
Finnish
Educational Background:
High School:
University / College: Universal Music Finland
Family / Parents:
Mother name – Nina Packalén
Father name – Mika Packalén
Job – Occupation:
He is a singer and actor.
Labels:
Universal Music Finland
Body:
Slim
Girlfriend / Spouse:
N/A
Ethnicity:
White
Color of Hair:
Brown
Colors of Eyes:
Brown
Physical Distinctive Features:
Measurements:
Shoe Size:
Style, makeup, Dress and hair style:
He always wear two different color sneakers. He also like to wear his trade mark White t-shirt and black leather jacket.
Brand Ambassador For :
Religious Belief:
Well Known For:
First Album:
List of top songs
First TV Show or Movie:
His music can be heard in the following TV series as sound tracts; SuomiLOVE Episode #2.10 (2016), Posse Episode #2.10 (2015) and Loirinuotiolla Episode #1.4 (2015). He was also in the movie "Ella and Friends 2" a Robin.
Favorite Things
List tour dates for the year
List of Facts / Trivia:
1. Robin Packalen has released six albums since 2012: Koodi, 2012: Chillaa, 2013: Boom Kah, 2014: Boombox, 2014: 16 and 2015: Yhdessä.
2. His songs are not made available in the USA English version on YouTube.
Learn more about Robin at his website.