Birth Names
Jillian Hervey and Lucas Goodman
Age – Date of Birth
Jillian was born on June 19th, 1989.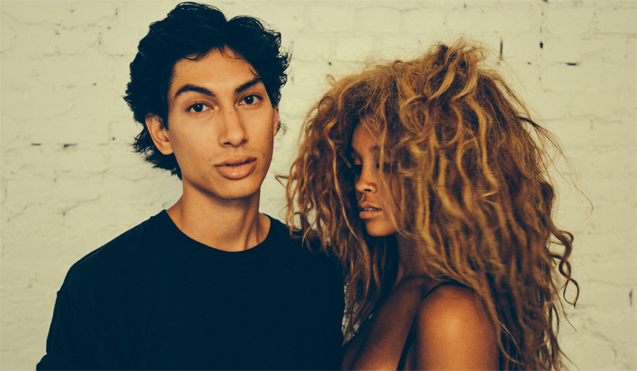 Nationality
American
Height
Jillian Hervey is about 5′ 9″  while Lucas Goodman is 6′
Educational Background
Jillian studied at dance at the New School, New York.
Job – Occupation
neo-soul duo
Members of band Lion Babe
Physical Distinctive Features
Jillian is known for her striking afro hair.
Tour Dates
Find tour dates at https://www.facebook.com/lionbabemusic/app_123966167614127
08.08.15 Washington DC
08.22.15 New York City
09.09.15 Ibiza Rocks, Spain
10.02.15 Austin, Texas
10.09.15 Austin, Texas
11.24.15 London, England
List of Facts
Jillian Hervey is the daughter of singer Vanessa Williams
Lucas Goodman began producing music in his dorm room at Northeastern University.
Jillian initially wanted to become a dancer.
Jillian's voice has been compared to that of Erykah Badu.
The band name 'Lion Babe' refers to Lucas's star sign (Leo) and Jillian's afro hair.
Their debut EP was released on vinyl and steamed as well as on CD/download.
Jillian has been visiting the same hairdresser since she was a child. She is now famous for her hair, which she likes to throw around on stage.
Lion Babe's videos have been influenced retro style, particularly from the 1970s.
Jillian has been spotted at various fashion parties, including one for Art Basel, at which she put on a performance.
Lion Babe currently have 13,000 followers on Twitter and a recent acoustic performance caused a lot of excitement in the Twittersphere.
Additional Statistics and Summary
Lion Babe are a neo-Soul group made up of singer Jillian Hervey, the daughter of singer and former Miss America Vanessa Williams, and producer and musician Lucas Goodman. Jillian initially wanted to become a dancer, and studied at the New School in New York City. Lucas began producing music in his dorm room at Northeastern University before moving back to New York to take up an internship at Truth & Soul Records. It was in New York that the pair were introduced by friends at a party. After the party they followed each other on My Space but fell out of contact until Jillian contacted Lucas to ask him to help her prepare some original music for a dance piece she was producing for college. Jillian expressed an interest in singing and Lucas encouraged her to try a soul-influenced style.
Now a band, Lion Babe released the single 'Treat Me Like Fire' in December 2012 and the following March, rapper Childish Gambino (Donald Glover) asked the pair to open for him. This led to Lion Babe getting a record deal with Interscope in the US and Polydor in the UK. The pair have kept in contact with Glover, who appeared on their single 'Jump Hi', the lead from their self-titled debut EP which was released in December 2014. The debut album is due for release this year. The song 'Wonder Woman', released in May 2015,which was produced by Pharrell Williams, peaked at #1 on the interactive Billboard chart, Billboard Twitter Emerging Artists.
Sources
http://www.marieclaire.co.uk/blogs/548950/lion-babe-introducing-jillian-hervey-and-lucas-goodman-the-wonder-woman-singers-everyone-s-talking-about.html
https://www.facebook.com/lionbabemusic/app_123966167614127