Kylie Jenner Net Worth
Kylie Jenner Net Worth is about $5 million but you can expect that amount increase closer to $7.5 million by the end of 2016. She may not be as popular as her half sister Kim or even Kendall, but this reality television personality, socialite and model is purposefully carving out a name for her self in the entertainment industry.
It is no secret that her rise to fame was greatly influenced by her mother Kris Jenner, and sisters who worked with and helped pave the way to where she currently finds herself. She has deleberately done things to build her own brand name and fan base. Kylie was born on August 10, 1997 in Los Angeles, CA to Kris and Caitlyn Jenner. She stands at a height of 5′ 6″ and like the rest of her family, she relishes the limelight.
The E! reality television series Keeping Up with the Kardashians is a major factor a very successful career. She has also used social media to grow her fan base over the years. Let us take a look at how Kylie makes her money.
The TV Show:
As we mentioned earlier, it all started with Keeping Up with the Kardashians, which was her first major source of income. She has been making anywhere between $10,000 and $100,000 per season for show. She appears does the series with other member for the family including older sister Kendall, three older half-sisters, Kourtney, Kim and Khloé Kardashian, and one older half-brother, Rob.
Products Endorsements:
Kylie works with a number of companies to produce and endorse products like the nail lacquers from the Nicole by OPI nail polish brand called Wear Something Spar-kylie and Rainbow in the S-kylie. On February 2013 she and her sister Kendall launched the Kendall & Kylie Collection with PacSun. In February 2014, the sisters launched a shoe and handbag line for Steve Madden's Madden Girl line. Other products include a hair extension line with Bellami Hair, entitled Kylie Hair Kouture, a clothing line Kendall + Kylie with British fashion retailer Topshop, and a lipstick line.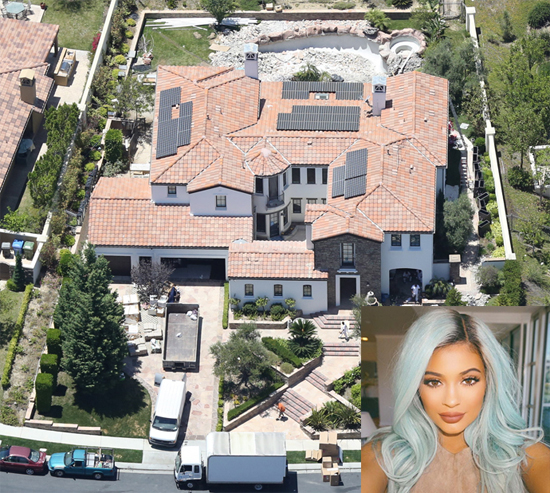 Modeling:
Jenner could establish a flourishing modeling career following in the foot steps of sister Kendall. She posed for Vogue with Bella and Lottie in 2015 and there are lots of other major names knocking. While she is not as established in the modeling industry as Kendall, we do expect to see significant progress in this area for her.
Other Sources of Income:
Kylie Jenner makes a lot of money from social media. Every post she makes on places like Instagram and Twitter draw lots of eyeballs. She make money through ads that appear on the website. She has also graced the cover of a number of magazine covers including Cosmopolitan, Teen Vogue, Marie Claire Mexico, Seventeen, Remix, Seventeen Prom and Girlfriend.
Source of Wealth:
Total Net Worth: $7.5 million at the end of 2015.
Estimated Annual Income: $500,000.
Amount Received Per Instagram Post: Estimated at $75,000.
Value of Home in Calabasas, Los Angeles: $2.7 million.
Value of Car Rolls Royce Ghost: $320,000
Follow her on Twitter