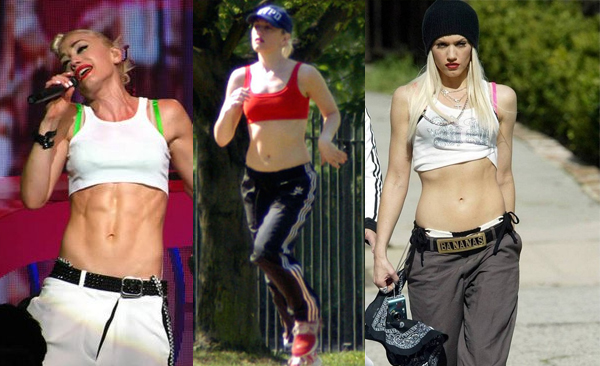 Looking at singer, designer, and actress Gwen Stefani, it's hard to remember that she's closer to 50 than 40 these days. Despite being a busy entrepreneur, the mother of three children, and having a romantic life that keeps the media on their toes, Gwen maintains an incredibly toned body. It wasn't always like that, though – she's revealed in interviews that she doesn't have a naturally fast metabolism, and that she struggles to keep the weight from creeping on.
That's something that many women can relate to, and looking at Gwen gives us all hope. If you want to copy the singer's routine to see the same gorgeous body into your 50s, here's what you need to know:
Gwen Stefani's Workout Routine
Many singers and actresses focus on Pilates and yoga, deeming these activities perfect for creating lean, toned bodies. However, these types of exercises are often favored by starlets who have great genes and high metabolisms to begin with. In order to stay ahead of weight gain, Gwen opts for more grueling workouts, such as intense strength training, boxing, and high-intensity cardio workouts. She works out five times per week, with trainers who have also worked with action stars like Bruce Willis and Angelina Jolie.
While one part of her workout is strictly routine, Gwen also understands the importance of switching it up. So in addition to the boxing and cardio workouts that she does five times a week, she also makes time for "fun" activities that double as exercise, such as swimming, skiing, and hiking. These are things that she can do with her family, that keep her moving and put her hard-earned muscles to work doing practical movements.
Gwen Stefani's Diet
If you want to copy Gwen's success, you're going to have to go vegan. While Gwen hasn't always been very forthcoming about her diet plan, she is vocal about her vegan diet. She doesn't eat processed foods, meat, or animal products of any kind (so, no cheese, eggs, or honey!). Instead, she focuses on getting tons of organic vegetables, whole grains, and vegan protein like nuts, tofu, and others.
Gwen's food comes as direct from the source as she can get it. When she can get fresh-from-the-farm produce, that is her preference.
The good news is that you don't have to have an iron will to be like Gwen. She understands that even the best personal trainers have to indulge sometimes. About once or twice a week, Gwen will enjoy a meal that includes something not quite as healthy – such as pizza or vegan cookies.
So, to be like Gwen, you need to:
• Fall in love with exercise, and incorporate movement into your daily life in addition to maintaining a regular workout routine.
• Go vegan, and only indulge in your favorite foods once or twice a week.
• Get your produce as fresh as possible, and always choose organic when you can.
With these lifestyle changes, anyone can copy Gwen Stefani's diet and workout plan.