Birth Name
Demetria Devonne Lovato
Nicknames
Demi, Mc D Love, DDLovato, Demi Rock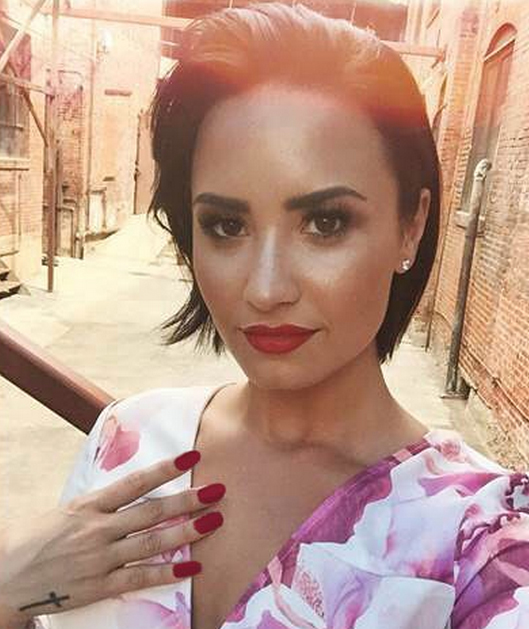 Age – Date of Birth
August 20, 1992
Sun Sign
Leo
Place of Birth
Albuquerque, New Mexico, USA
Nationality
American
Educational Background
Home schooled, High school diploma
Job – Occupation
Singer-Songwriter, Actress
Body
Voluptuous
Height
5 ft 3 in or 161 cm
Weight
57 kg or 126 LBS
Boyfriend / Spouse 
Wilmer Valderrama
Ethnicity
White American
Color of Hair 
Brown
Colors of Eyes
Dark Brown
Measurements 
34-25-36 in or 87-63.5-91.5 cm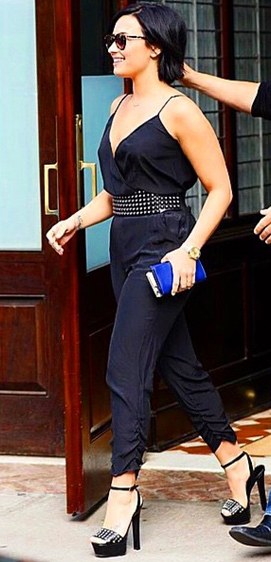 Bra Size
32B
Dress Size
8 (US)
Shoe Size
7 (US)
Religious Belief
Christianity
First Album
Don't Forget
First TV Show or Movie
Camp Rock
Additional Statistics and Summary
Demetria Devonne 'Demi' Lovato was born in August 1992, in Albuquerque, New Mexico. As a child, she made her television debut in 'Barney and Friends' before getting a part in the Disney television film 'Camp Rock' and series 'Sonny With A Chance.' She signed a contract with Hollywood Records and released her debut album, 'Don't Forget' in September 2008. The album debuted at #2 on the Billboard 200 and sold 89.000 copies its first week; it has since been certified gold. Ten of the album tracks were co-written with the Jonas Brothers, with whom Demi had been touring on their 'Burnin' Up' tour after the release of the 'Camp Rock' soundtrack. Despite good sales, critics dismissed Demi's album as tween fare.
In 2009, Demi released her second album, 'Here We Go Again' which debuted at #1 on the Billboard 200, selling 108,000 copies its first week. The album received praise from critics for its pop-rock feel.  That year, Demi also recorded a charity single, 'Send It On', with celebrity pals Selena Gomez, Miley Cyrus and the Jonas Brothers. All proceeds were donated to environmental charities supported by the Disney Worldwide Conservation Fund. Demi also headed out on her first national concert tour and appeared in an episode of Grey's Anatomy as a teenage schizophrenic.
In 2010, 'Camp Rock 2: The Final Jam' was released. It was the number one cable-television premier of the year, attracting eight million viewers. The soundtrack, on which Demi appears in nine songs, debuted at #3 in the Billboard 200 that August. That same month, Demi announced she would be leaving the television series 'Sonny' and concentrating upon her music career.
In 2011, Demi released her third album, Unbroken, which experimented with a more R&B influenced sound. The lead single, 'Skyscraper' debuted at #10 on the Billboard 200, selling 176,000 downloads in the first week of release. In May, Demi became a judge on the US X Factor, for a reported salary of $1 million. In December, Demi released a YouTube video of a song, 'Angels Among Us' which was dedicated to the victims of the Sandy Hook Elementary School shooting. The following March it was confirmed Demi would return for a second season of the X Factor.
In 2013, 'Demi' was released, debuting at #3 on the Billboard 200 and selling 110,000 copies the first week of release.  That year Demi also published an ebook, 'Demi' and appeared as a recurring character in the series 'Glee.' Demi released a deluxe version of her fourth album, and had a song on the soundtrack for 'The Mortal Instruments: City of Bones.'  In November Demi released a book, 'Staying Strong: 365 days a year' and plans for a memoir were announced.
In 2014, Demi was extremely busy, launching her 'Neon Lights' tour,  releasing 'Let it Go' for the Disney film 'Frozen', appearing on a Vamps track, 'Somebody to You' and with Enrique Iglesias on his 'Sex and Love' tour. Demi also announced plans for her first world tour.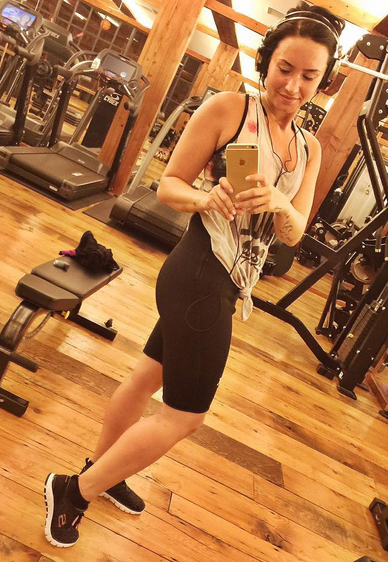 In May 2015, it was announced Demi was in the process of starting an 'artist-centric' label, Safehouse Records, of which she will be co-owner. Demi has famously struggled with depression, eating disorders and self-harm, and sought treatment in a rehab centre in November 2010, after pulling out of the Jonas Brothers Live In Concert tour citing 'physical and emotional issues.' Demi spoke out about abusing substances such as cocaine and alcohol and stated that she had experienced a 'nervous breakdown' and been diagnosed with bipolar during her stay in rehab. Demi appeared as a contributing editor for Seventeen Magazine, discussing her struggles, and MTV produced a documentary about her issues, called 'Staying Strong.' Demi has been praised for her openness in discussing her own mental health issues and for raising awareness about mental health. Currently,  5ft 3 in Demi is a healthy, happy 126lbs (57kg) and maintains her curves with Bikram yoga. After briefly dating Joe Jonas, Demi has been in a relationship with Wilmer Valderrama since 2010.
References:
http://www.healthyceleb.com
https://en.wikipedia.org/wiki/Demi_Lovato
http://www.famefacts.com
https://twitter.com/ddlovato?lang=en
https://instagram.com/ddlovato/