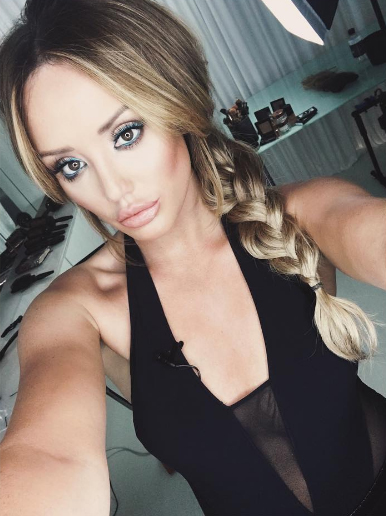 Like many reality television stars, Charlotte-Letitia Crosby was just a regular girl before being cast on the smash hit MTV UK reality show "Geordie Shore". Predictably, the show is the British version of the American reality hit "Jersey Shore", chronicling the adventures and sometimes wild antics of a group of young people living and working in the Tyneside area of England. The spunky brunette gone blonde is well-known for her outspoken personality and on-again off-again relationship with fellow cast member Gary Beadle, both of whom have been with the show since its inception in 2011. "Geordie Shore" has become the most popular show in MTV UK history.
Just the Facts
In 2015, Charlotte and Gary – or Gaz, as his TV persona is known – also joined the show "Ex on the Beach". Not surprisingly, the premise of the show – eight young people in paradise having a great time until their exes show up – has been fertile ground for hurt feelings and betrayal. This was particularly true when word came out that Gaz had slept with his ex on the show, leaving Charlotte devastated. Fans of the two reality series are no doubt already in the loop on these events, but here we have 5 surprising facts about Charlotte-Letitia Crosby that you may not know.
1. Charlotte was a barmaid in Sunderland before landing the role on "Geordie Shore", boasting on her Twitter "I pulled the best pint of Foster's in town!"
2. The svelte fitness buff used to be a size 16. She got down to a size 8 in a remarkable six months, and claims to have accomplished this feat simply by choosing three canned foods to eat per day. She now has her own series of fitness DVDs, as well as a best-selling book called Me Me Me.
3. In 2012, the reality star was arrested for driving under the influence – she blew a breathalyzer test of twice the legal limit. Charlotte was given an 18-month driving ban, and forced to pay fines and legal costs. She also agreed to undergo a program to deal with the issue.
4. When Charlotte-Letitia found out about Gaz sleeping with his ex on the show "Ex on the Beach", she reportedly turned in her "Geordie Shore" resignation. Her agent, however, denies the rumors and says she's not quitting the show.
5. Charlotte went under the knife in early 2016, doing something she says she's wanted to have done for ages – a nose job. The starlet had the bump on her sniffer refined into an adorable little button nose. She managed to hide the results for a month before finally unveiling the new look during filming of the show.
What does the future hold for Gaz and Charlotte? Only time, and perhaps some more wild and crazy episodes of the two reality shows, will tell. For now, Charlotte-Letitia Crosby continues her much-publicized TV adventures and focuses on her fitness DVD business, as the world looks on in fascination.