Birth Name
Amber Levonchuck
Nicknames
Amber Rose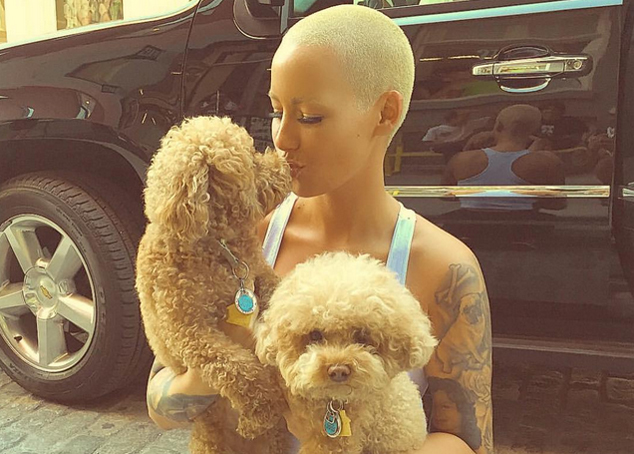 Age – Date of Birth
October 21, 1983 (31)
Sun Sign
Libra
Place of Birth
Philadelphia, Pennsylvania
Nationality
Italian, Cape Verdean, Irish, Scottish
Educational Background
Unknown
Job – Occupation
Amber is a model, fashion designer, actress, and hip hop artist. She is also a former stripper, a profession she took up at the age of 15 using the name "Paris."
Body
Her body type is full-figured and very curvy.
Height
5ft, 9 in
Weight
148 lbs
Boyfriend / Spouse
Amber dated Kanye West from 2008 to 2010. She began dating Wiz Khalifa in 2011 and married him in 2013. Rose and Khalifa filed for divorce in 2014 and she is now dating Machine Gun Kelly.
Ethnicity
Multiracial. Mostly Italian and Cape Verdean.
Color of Hair
Naturally brown. She bleaches it blonde.
Colors of Eyes
Brown. Has been known to wear blue and grey contacts.
Physical Distinctive Features
Short, buzzed hair, long nails, bright lipstick, and multiple tattoos.
Measurements
42-27-41 in inches. 107-69-104 cm.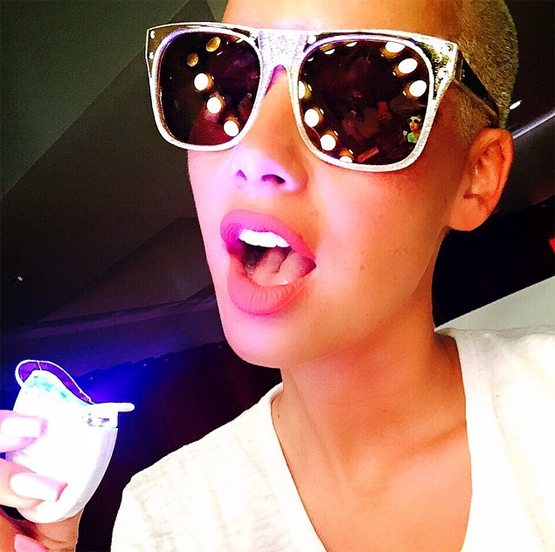 Bra Size
36H
Dress Size
8 or 10 (US)
Shoe Size
7-8
Brand Ambassador for
Louis Vuitton, Celestino, Boadicea the Victorious, Smirnoff.
Religious Belief
Christian.
Well Known For
Amber Rose is best known for dating famous hip hop artists and rappers, such as Wiz Khalifa and Kanye West. She is also known on social media, especially for her 'twerking' videos.
First Album
Rose has not released any albums, though she has released several singles. Her debut single was titled "Fame."
First TV Show or Movie
Rose first appeared in a paranormal documentary series called A Haunting.
Bodyguard (s)
Unknown.
Favorite Things
Reese's Peanut Butter Cups.
List of Facts
• She has appeared in music videos for songs by Wiz Khalifa, Ludacris, Young Jeezy, Fabolous, Mary Mary, and Nicki Minaj.
• Co-owns a clothing line with Priscilla Ono. It is called Rose & Ono.
• Appeared on Season 3 of RuPaul's Drag Race as a guest judge.
• She will soon be releasing her first book, titled How to Be a Bad Bitch.
• She has one son, with ex-husband Wiz Khalifa. Her son's name is Sebastian.
Additional Statistics and Summary
Amber Rose was born Amber Levonchuck. She was born in 1983, in the city of Philadelphia, Pennsylvania, to an Irish/Italian father and a Cape Veredean/Scottish mother. At the age of 15, her parents divorced and she began to work as a stripper using the name "Paris." In September, 2009, Rose appeared in the music video for Ludacris's song "What Them Girls Like." Rapper Kanye West was impressed with Rose's performance in the video and she was subsequently hired to appear in an advertisement for Kanye West's Louis Vuitton sneaker line. Rose went on to date Kanye West from 2008 to 2010, a relationship that garnered a lot of media attention. During this time, Rose continued to appear in music videos and made appearances on several reality shoes. She was also hired to represent the Smirnoff vodka brand, specifically for their Whipped Cream and Fluffed Marshmallows flavors. In 2012, Rose released her debut single with boyfriend Wiz Khalifa. The single, titled "Fame," received little attention from the media or critics. She continued to date Khalifa and they became engaged in March of 2012. They were married in July 2013. Unfortunately Rose filed for divorce in 2014 – shortly over a year after their marriage. Khalifa and Rose have one son together, named Sebastian Taylor Thomaz. It has been confirmed that Rose has been dating rapper Machine Gun Kelly since May of 2015.
Refernces / Sources:
https://instagram.com/amberrose/?hl=en
https://twitter.com/darealamberrose
https://en.wikipedia.org/wiki/Amber_Rose