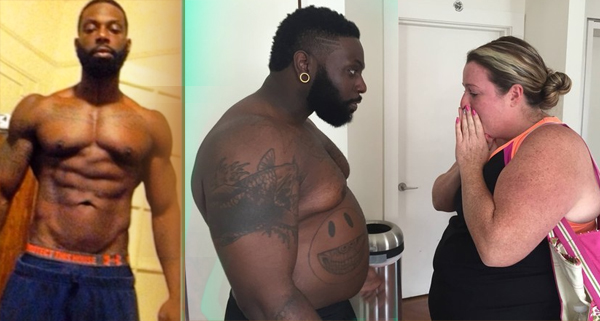 Losing weight is hard! And, if you've been overweight your whole life or you've recently gained weight, it can be difficult to get inspired by someone who's completely svelte and who's never battled the bulge. That's why personal fitness trainer Adonis Hill packed on a whopping 70 pounds to inspire his clients.
Basically, Hill had once been overweight himself, but it was hard to believe, especially when looking at his rock-hard abs. Through exercise and nutrition, he found a way to beat obesity and depression, and he wanted to share that with his clients. Because he knew what they had been through, he was a natural at helping people lose weight, but he took things a step further when he took on client Alissa Kane.
A teacher, Kane had been overweight for most of her life, and she'd tried everything. In what felt like a last-ditch effort to lose the weight that clung stubbornly to her body, she signed up to go on the TV show "Fit to Fat to Fit". She knew that she'd be working with a personal trainer on the show, but she had no idea that her trainer would work so hard for her before the show to inspire her to lose weight.
Packing on the Pounds
In the months leading up to the show, Hill ate an average of 8000 calories per day, and we're not talking healthy fats and proteins here. We're talking doughnuts, pizza, hot dogs, cookies, and lots of trips to fast food chains for high-calorie meals and snacks.
While he was still eating as much as possible to gain weight, in the last month before meeting with Kane, Hill's weight gain actually stalled. Though his doctors were more than a little bit concerned about the damage he was doing to his body, he pushed through, drinking a whole gallon of soda each day to gain more weight. By the time he met with Alissa, he'd done it – he'd gained 70 pounds of fat.
Working Out Together
If that sounds crazy to you, then consider this. Instead of just telling Alissa what she needed to do to lose weight, Adonis worked out right beside her. The two of them maintained a high-fat, high-protein, low-sugar diet and worked out vigorously together. At 35, Adonis had a harder time losing the weight than when he was younger, and struggling alongside Alissa helped him see what she was going through so that he could better motivate her.
In four months of working out together, Alissa lost an impressive 58 pounds, and Adonis lost 57. While he wasn't back to his pre-gain weight, he had a whole new perspective on the ways that junk food can damage your body and the struggles that people go through to lose weight, making him an even better fitness trainer than he was before.
Hill and Kane both look slimmer and happier now. Do you think you could gain all that weight and lose it again?