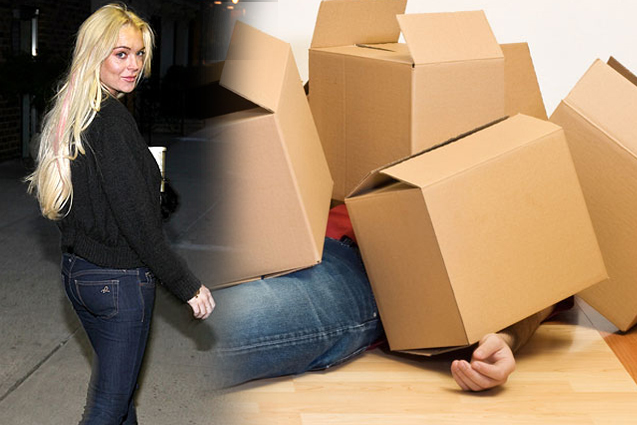 This article will look at the poorest people in showbiz. The interesting part is even the poor can still have a million or two. Being poor in Hollywood just means a star had a fortune at one time and lost it due to some misfortune. Remember all those child stars back in the 1970's who lost their fortune due to drugs and alcohol? The people on this list lost their fortune mainly to back taxes, bad business deals, and irresponsible spending. The ironic part is if they do get back in the game, they can make it all back in one job. That is if they can get work in the entertainment industry ever again.
10. Lindsay Lohan
---

Lindsay became an instant star in the Disney movie Parent Trap. Maybe a little too instant she was unable to manage her finances properly and owed the IRS $300,000 in back taxes. Good ole boy Charlie Sheen helped her out with a hundred grand. Oprah Winfrey also paid Lohan a couple million for working with the Oprah Winfrey Network. Lindsay is still broke even after all of that. Can you say financial management classes?
9. Pamela Anderson
---

The former Baywatch beauty and playboy playmate, Pamela Anderson owes the federal government $1.7 million and another half a million to the state of California. In addition to that she owes contractors money for remodeling her estate. Since her divorce from Motley Crue rocker, Tommy Lee, Pamela has not had much work. This contributes greatly to her financial problems. The current rumor is that she is being forced to sell her mansion in Sydney, Australia.
8. Brendan Fraser
---

Brendan may be the only one on the list who does not owe back taxes. He is simply filing bankruptcy over child support that he owes his ex-wife to the tune of $900,000 per year. Fraser also claims that he hurt his back while attempting to lift a tree during the relief effort for Hurricane Sandy.
7. Chris Tucker
---

Jackie Chan's co-star in Rush Hour 1-3 got caught up in back taxes which totaled $12 million and even had his mansion foreclosed. The mansion was valued at $6 million and Tucker still owes the mortgage company another $4.4 million. If that is not enough, Chris still owes the state of Georgia $590,000.
6. Nicolas Cage
---

Nicholas is the most likely person to bounce back on this list since he has some current projects that he is working on. It seems that he ran into some financial difficulty through $6 million in back taxes. He also blames his financial manager for mismanagement. Of course, Cage also has a very strange habit of collecting castles and dinosaur skulls which may have contributed to his financial problems. That much financial damage is more than just a collection. That is more of an addiction.
5. Janice Dickinson
---

In addition to back taxes, this former judge on America's Next Top Model went broke due to excessive spending on cosmetic surgery. She owed a million dollars to plastic surgeons, $8,000 to a dermatologist, and another $8,000 to an anti-aging center in Beverly Hills.
4. Don Johnson
---

The former white suited plainclothes cop in Miami Vice during the 1980's lost his Aspen ranch thanks to a debt that he owed to the tune of $930,000. After declaring bankruptcy, he still ended up paying $14 million. Fortunately for him, he was dating the heiress to the Getty Oil Company, Kelley Phelger.
3. Kim Basinger
---

Alec Baldwin's ex-wife and Bruce Wayne's date in the 1989 version of Batman, Vickie Vale, Kim Basinger backed out of a contract with Main Line Pictures after agreeing to appear in a film. She was sued for $8.1 million. This was in addition to her irresponsible spending habits which led her to sell the town of Braselton, Georgia which she owned before declaring bankruptcy.
2. OJ Simpson
---

Remember the trial of the century back in 1994 where OJ Simpson was found guilty of murdering his ex-wife Nicole Brown Simpson and Ronald Goldman? "The Juice" was ordered to pay $33.5 million in damages to the Goldman family. Fortunately for him, his pension was protected from having to pay the civil suit but he is still serving 33 years for robbery, kidnapping, and conspiracy.
1. MC Hammer
---

Stanley Burrell, aka MC Hammer, went from a net worth of $33 million back in 1991 to just $1.5 million in recent years. This was just a case of a bad business decision where the Hammer wanted to have a $30 million mansion built in a bad neighborhood. The result was he ended up selling it for just $10 million and filing for bankruptcy. So much for you can't touch this.
You would think it would be hard to lose millions of dollars but it is actually way easier than you think. To those that do acquire wealth that easily, it can be just as easy to lose it as well. Unlike the child stars a few decades earlier, they do not seem to be losing it through drug and alcohol addiction. The most of today's losses had to do primarily with civil suits and owing money to state and federal governments. Then of course there is the occasional bad business deal or spending frivolously. A lot of it is just self-control and common sense, which usually goes out the window when you have more money than you know what to do with if you are not used to it.
References
biographyarchive.com
E Bishop Wooten