The a cappella group known as "Pentatonix" is made up of an unusual blend of performers. They include Avi Kaplan, Scott Hoying, Kirstin Maldonado, Kevin Olusola and Mitch Grassi. They do covers of many famous songs, and also include medleys of famous tunes in their performance. They have also recorded original pieces as well.
The tallest member is Scott Hoying, his height is 6′ 3″ (1.91 m).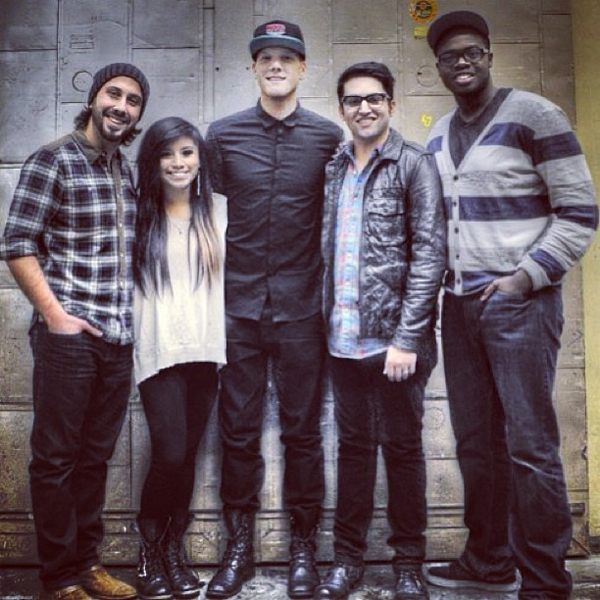 What makes them special? It has to do with the way they arrange each of their recordings, and stick to the iconic and classic a cappella formula of "voices only" to achieve their sound.
Their Beginnings
Formed in 2011, Pentatonix has its origins in the childhoods of members Hoying, Maldonado and Grassi. They had been singing as a trio during their high school years, and when a new musical reality show called The Sing Off announced auditions in 2011, Hoying encouraged his friends to join him in forming a group. They then met Kaplan through a mutual acquaintance and discovered Olusola through his own YouTube channel.
After they won the contest, though, their record label dropped them and this allowed the group to create their own YouTube channel. Sony Pictures' subsidiary, Madison Gate Records, was chosen as their distributor at that time too. They say that their style is a blend of influences that include pop, reggae, hip hop, classical, electric, and dubstep sounds.
Though a YouTube hit, with all of their Sing Off videos going viral, they have taken steps to maintain this popular following in their recordings. Their first album was a blend of classic and popular tunes, and this was an intentional choice. The group has a goal of becoming one of the first a cappella groups to create and maintain a mainstream following in the current era. Choosing top tunes allowed them to have relevance to the widest range of listeners.
However, as reported by Billboard, their fourth studio album was "an eponymously titled release of all-original material that topped the Billboard 200. The album's lead single, "Can't Sleep Love," debuted at number 11 on the Hot 100."
Clearly, they have reached that goal of becoming an authentic hit whether performing popular songs or their own, but using only a cappella techniques.
Ten Facts about Pentatonix
1. They have won two Grammy awards.
2. Their first tour included 30 cities and it was entirely sold out.
3. They do not do Taylor Swift covers because the vocal ranges are not a good fit to their sound.
4. The lead singer for the band is their only female member.
5. They chose their name because the pentatonic scale has five notes per octave!
6. They rehearse daily, and admit to practicing up to eight hours at one time.
7. They have collaborated with another unusual artist – Lindsey Stirling on their cover of "Radioactive".
8. They have more than seven million YouTube subscribes.
9. Many do not know that it was only 24 hours before their famous Sing Off appearance that the band met for the first time.
10. Mitch Grassi skipped his high school graduation to audition for Sing Off.
Sources