Birth Name (real name):
Justine Ezarik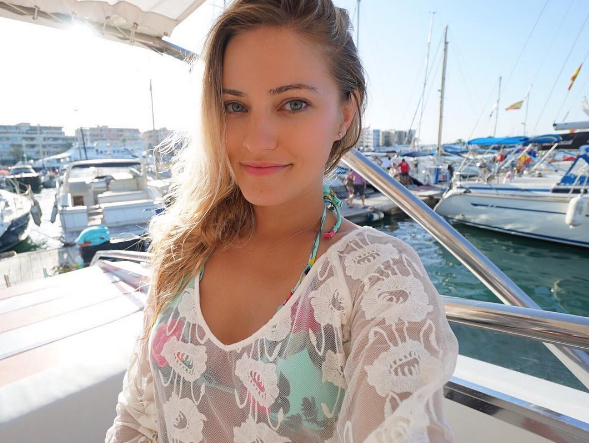 Height
5′ 3″ or 1.60cm
Weight
110 lbs or 50kg
Body Measurements
34-25-35 inches
Biography, Facts, Family
Justine Ezarik grab a lot of attention from her five Youtube channels, where she has more than 3 million followers. She was born on 20 March 1984, Pittsburgh, Pennsylvania, USA and build a name for herself on YouTube and other popular social platforms like Twitter and Instagram. Her followers call her iJustine and her popularity has brought her both fame and fortune. She has worked as brand ambassador for big name brands like Mattel, Nikon, Ford, GE, Carl's Jr., Gillette, Taco Bell, Doritos, Skittles, Sharpie, Microsoft etc. Justine has also appeared in TV shows like The Vampire Diaries, Law & Order and Criminal Minds.
Nicknames: iJustine
Net Worth:
$2m
Age – Date of Birth:
32 – March 20, 1984
Birth Sign / Zodiac:
Pisces – Aries cusp
Place of Birth:
Pittsburgh, Pennsylvania
Nationality:
American
Educational Background:
High School:
Bentworth High School:
University / College:
Pittsburgh Technical Institute
Family / Parents:
Mother name – Michelle Ezarik
Father name – Steve Ezarik
Siblings – Jenna Ezarik, Breanne Ezarik
Job – Occupation:
YouTube gaming and lifestyle vlogger
Body Type:
Slim
Dating History Boyfriend / Spouse:
Justine Ezarik and Ryan Wyatt have been in a dating relationship since 2012. She dated Justin Fishner-Wolfson and Brian Pokorny, sometime during 2008.
Ethnicity:
Caucasian / White
Color of Hair:
Dyed Blonde
Colors of Eyes:
Blue
Physical Distinctive Features:
Measurements:
Bra Size: 32B
Dress Size:
Shoe Size: 7
Style, makeup, Dress and hair style:
She loves to dress in modern clothing.
Plastic Surgery:
None
Brand Ambassador For :
Apple
Religious Belief:
Christian
Well Known For:
The 300-page iPhone bill video
First TV Show or Movie:
Law & Order: Special Victims Unit
Favorite Things:
List of 10 Facts / Trivia:
1. Justine Ezarik has a dog named Matty who is a Miniature Poodle, Chihuahua, Bichon Frise and Lhasa Apso mix.
2. Her dog Matty won the World Dog Awards on January 14th, 2016.
3. She once worked as a voice actor on Cartoon Network's Annoying Orange. She voiced a passion fruit.
4. She has two sisters, Jenna and Breanne
5. Justine gained internet fame in August 2007 when she posted the YouTube video "300-page iPhone bill" which quickly went viral.
6. She was nominated for the 2010 Streamy Awards in the Best Vlogger category, and she won the 2015 Streamy Awards in the Lifestyle category.
7. Ezarik released a book on June 2, 2015 titled I, Justine which became a best seller
8. She won the Web Personality category at the Webby Awards in 2011.
9. She is a huge fan of Pokemon GO.
10. Her favourite biscuits are Leibniz, a German brand of chocolate biscuits.
You may also like:
Onision Height Weight Body Measurements
Chloe Grace Moretz Height Weight Body Measurements
Follower her on:
Instagram.com: @ijustine
Twitter: @ijustine
Youtube.com: @ijustine