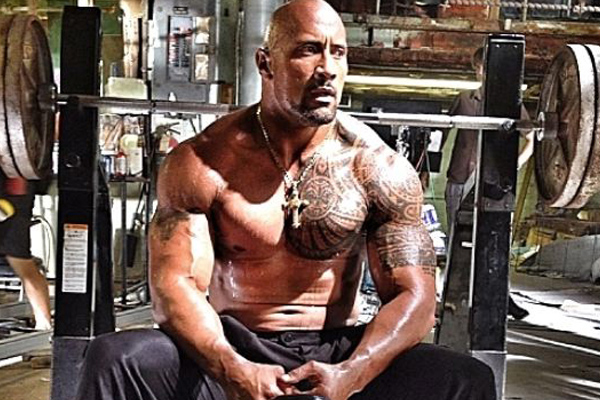 "The Rock" or Dwayne Johnson to his friends and family is big. No, he isn't big…he's BIG. Tall and enormously muscled, he is easily one of the largest actors currently active in the world of entertainment. It is why he was cast as the Scorpion King as well as Hercules, and why he was a successful wrestler before Hollywood came calling.
While he also is a gifted performer who can do comedy as well as action, his 6-foot-5 frame and 250 pounds-plus of muscle are also what have brought him fame. So, how on earth does he manage to maintain his flawless build? It is work almost as big as he is himself, and a truly "Herculean effort". In other words, if you want to look like The Rock, you need to be fully committed to a pretty intense diet and exercise routine.
Keep in mind that he does switch up his routines to accommodate the roles he is playing.
"Depending on the role, it will really dictate the type of training I do. For 'Hercules,' it was a 22-week diet, while for 'G.I. Joe: Retaliation' it was about a 14-week diet, and for 'Pain & Gain' I wanted to come out looking bulky, big, and dangerous, so we adjusted accordingly."
For Hercules, for instance, he did six days on and six days off for six months. Each day was 50 minutes of cardio and then targeted routines for specific body parts – with the emphasis on legs.
Bodybuilding magazine followed him for a day and discovered that he does 50 minutes of intense cardio first thing in the morning. Eats breakfast, and then goes to the gym.
"My workout is constantly changing and adapting, but for the most part, I do 4 sets of 12 reps with a 60-90-second rest. I don't play around in the gym. I always aim to be the hardest worker, and I make sure I clang and I bang to the best of my ability."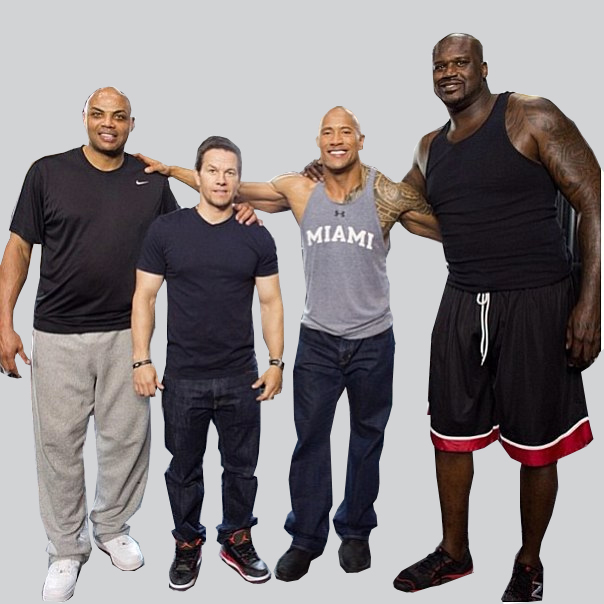 Dwayne Johnson standing next to Shaq, Charles Barkley and Mark Wahlberg. We know The Rock is tall at 6′ 5″, but look at how much taller Shaquille O'Neal is.
This really counts when he gets on set, since he strives to do as many of his own stunts as he is allowed. He does nothing unusual and blends everything from barbell squats, leg presses and deadlifts with pullups, hyperextensions and more.
His diet is not for the faint of heart and involves six or seven meals each day. Breakfast is often steak, egg whites, oatmeal, and watermelon juice. Next up is chicken with mushrooms, peppers, broccoli and a protein shake. After that he'll eat some salmon, asparagus, eggs, rice and broccoli. Meal #4 is usually steak, potato, asparagus and orange juice. The next meal is egg whites and casein protein.
Think you can keep up with this routine? If so, you can look a lot like The Rock. Keep in mind that he says he intentionally bulks up and pushes the limits. If you want to tone it down in order to just get a bit more buff, you can reduce the intensity and the calories and achieve some good definition and strength.