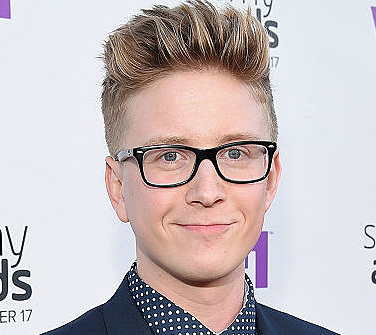 Tyler Oakley
Birthday:
03.22.1989
---
Birth Place
Jackson, Michigan
---
Age
29 years old
---
Birth Sign
Aries
---
---
Short Biography
Tyler Oakley was born on March 22nd, 1989. He is a YouTube sensation with more than 8 million subscribers. He is beloved for his quirky sense of humor and his delivery of his fiercely opinionated nature. He rants, he's sardonic, and he's edgy. He advocates and fundraises for the Trevor Project. He has a lot of fun being on YouTube and claims, "I'll do it until I hate it."
Early Life
Before he started posting videos in 2007, he attended Michigan State University, studying communications with focuses in marketing and social media. His parents divorced when he was just a baby. When he was in the sixth grade he developed an eating disorder which he struggled with until he reached high school when his time in the choir and a great choir director aided him in overcoming it. He admits he has an addictive personality and goes over the top on anything he gets involved with. He very much enjoyed drama club and choir.
Facts
Tyler came out to family and friends that he is gay when he was 14 years old. Most were supportive. Tyler competed on The Amazing Race 28 with his friend, Korey Kuhl. He is 5' 5" tall.
Personal and Family Life
Tyler is very close with his mom, "Mama Jackie" as she calls herself on Twitter. Crazy as it may sound, Tyler has 12 siblings (6 sisters and 6 brothers). Some are full siblings, but others are halves, steps, and in-laws.
Friends and Associates
His best buds in high school were Doran and Eric from the drama club, and Rachel from working on the yearbook. He started on YouTube as a way to communicate with them after high school while he was at Michigan State. At Michigan State, he became friends with Korey Kuhl when they bonded over MarioKart. He is also good friends with Troye Sivan.
Birth Name: Matthew Tyler Oakley
Birth Place: Jackson, Michigan
Birth Sign: Aries
---